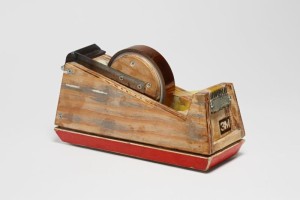 As we are all well aware, Tom Sachs– the New York-based MacGyver/MacGruber of the art world– has essentially taken over Austin for a spate, but on March 17, he comes to Fort Worth as special guest of the Tuesday Evenings at the Modern lecture series.
This must be a branch off of his protracted spin around Austin, and makes sense in the same way DFW (and especially Denton) has always enjoyed the windfall of great bands stopping off to play shows on their way to and from SXSW. To whet your appetite for an audience with this marvelous artist, the release for the Modern brings us this quote from him: "I'm obsessed with innovation. It's like that David Foster Wallace thing: If you worship money, you'll always feel poor. If you worship beauty, you'll always feel ugly. If you worship power, you always feel powerless. I worship innovation and I always feel like I'm not doing enough new stuff. That's my impulsiveness."
Free, as always, but this one will be full; show up early if you want a seat, or relax in the Modern's restaurant/bar area with a drink for the live feed of the talk. For more info, go here.