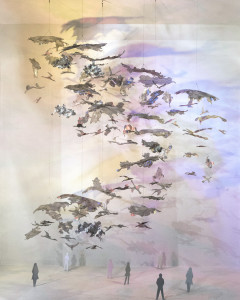 Glasstire reported Wednesday that Houston Arts Alliance had re-awarded Houston artist Ed Wilson the $830,000 commission to create an interior artwork for the George R. Brown (GRB) Convention Center in Houston; now the official press release is out and the whitewashing has begun in earnest.
HAA CEO Jonathan Glus is quoted as saying, "We are delighted to announce that Ed Wilson has been awarded this important commission," and the smoothing-over of serious conflicts in the process was continued by HAA board chairman Marc Melcher, who said "We took a few weeks to ensure that our policies and procedures are tight and that the process was followed for this important commission. In fact, they were, and with a re-endorsement by the executive committee, we were able to move swiftly to complete the process and deliver this proposal from Ed Wilson to Houston First. We are very pleased to offer this size of commission and level of prominence to one of Houston's long-time artists, with deep roots in our community."
HAA described the delay which attracted incredulous reports from the national media thus: "In November, 2014, HAA temporarily halted the review process of artists' proposals to reevaluate its review process and its own policies and procedures. Once the Executive Committee of HAA re-endorsed its policies and procedures, HAA expedited the review process for the GRB interior artwork by inviting the seven semi-finalists from the initial process to re-submit their projects."
In fact, the process was made into a fiasco, and more than three months were wasted by disagreements between members of the Civic Art Committee and the staff of HAA's Public Art + Design department, which led to the angry resignation of Matthew Lennon, HAA's public art director, and his replacement by Sara Kellner.
Voila! The opacity surrounding composition and authority of the Civic Art Committee in these decisions remains intact. The CAC is still empowered to overrule decisions of staff and independent selection panels, and its deliberations are still secret. The new selection process is indeed exactly the same as the process which chose Wilson in the first place!