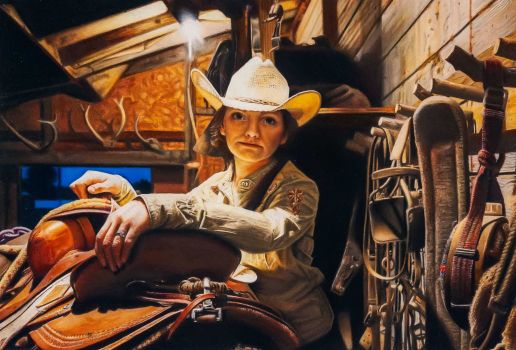 Congratulations if you recently sold a work of art for $100, $1,000, $10,000, or even $100,000! But two high school artists entering the rodeo art contest beat you by a long shot.
Although most entries into the rodeo art contest are usually based on photos and depicted in Prismacolor pencils, both winners are referred to as painters. The grand champion painting by Raina Baggerly, titled There's Work to be Done, depicts a cowgirl leaning on a saddle. It sold for $150,000 to former art auction committee chairwoman Terry Agris. "We bought this painting in memory of my brother-in-law," Agris told the Houston Chronicle. "He loved Western art, and this was a great painting he would have loved."
At the school art auction, buyers pooled money to take home the two top paintings, including spending a record $211,000 for the reserve grand champion work by 18-year-old Vanessa Sosa. Both artists are students in the Pasadena School District.