I'm fine with being late to a party if I need to get a fix on the full range of my feelings about it, and in the case of a clever marketing stunt pulled by Helly Nahmad Gallery last fall in London, I've run through every one of Kübler-Ross' stages of grief and beyond to land here at mild disgust.
At Frieze Masters (sister of the original Frieze Art Fair), which specializes in works made before 2000, Helly Nahmad Gallery presented, instead of the standard white-cube booth, a fully realized bohemian "apartment" belonging to a fictional character referred to as "The Collector." Designed to look like a Parisian flat in 1968, the time-capsule interior was a Wes-Anderson worthy imagining of the digs of a veteran writer-philosopher who fully inhabited his era. The set was a shabby-louche paradise of back-issue periodicals, early and mid-century furniture, first editions, new-wave cinema memorabilia, overflowing ashtrays, piped-in Miles Davis, dirty dishes in the kitchen sink, and a salon-style hang of actual artworks (for sale of course) by such luminaries as Picasso, Miró, Fontana, and Magritte.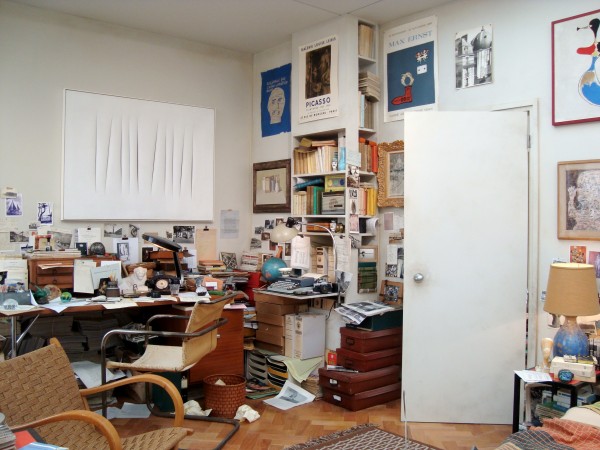 I didn't see it, but it was well documented, and an artist-writer friend of mine did see it and bring it up on social media as a discussion topic. The gallery of course hired a set designer to pull off "The Collector" and according to gallery representatives and reports at the time, it was a major attraction at the fair, to the degree that as some people (I assume older viewers) walked through it they wept. I also assume this response was from an overwhelming nostalgia for a lost time and sensibility—for a time in their lives when they were entirely engaged with the culture around them, and able to invest sincere energy on it. Younger viewers oohed and aahed at it, though I imagine that was more of a Selby-esque appreciation, and they could pick up some tips to take back to their own Apartment Therapy-ed, carefully aestheticized lairs.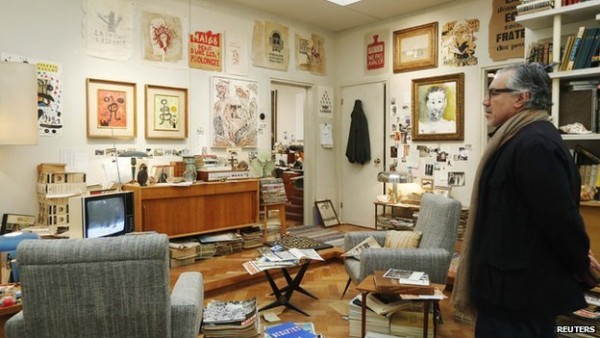 Looking at photos and video of the booth, I see a place that looks not terribly unlike—at least in part—the houses and apartments of people I know and love, and of my own historically cluttered walls and bookshelves (minus the high-dollar art), but of course the gallery is just trying to bottle and sell the idea of intellectual curiosity to the new collectors who come through, and to push a heightened sense of context for the work itself. As a tactic and a fair experience, it is indeed a very nifty idea. It is cynical. Patronizing, insulting. It is effectively rendered nostalgia as a trojan horse for art sales. I might have wept, too, though at that moment I might not have understood why.
Western pop culture's nostalgia obsession has reached an absurd level, and every decade since the beginning of the last century is getting the romance treatment to a startling degree. What this means for the art world in the long run, I'm not sure, though it's caught up in it too, and I believe the market will use nostalgia more and more to (re)contextualize and sell work. And why not, since every other industry is using it as a marketing tool.
So, advertising, yes, but nostalgia has increasingly infiltrated narrative television and movies, magazines and newspaper trend pieces, music, design, fashion (of course). This is our world's desperate grasp for a pre-digital existence, when everything (we believe) was slower, deeper, calmer, more thoughtful—more substantive and worthy. In 2011, the writer Simon Reynolds in his book Retromania proposed that the cycles of nostalgia have been accelerating since 1964, but as the internet's bottomless universe of information expands exponentially by the day, I wonder if even he could have fully predicted just how addicted we would be to nostalgia only four years later. It's all just so available to us now.
I'm not immune to it, and I think references are fine; we all need them to understand where things come from and to get a sense of where we might be heading. Context context context. Working artists and anyone in creative fields have long understood this. But if the art world starts to depend too heavily on making new art stars out of dead or nearly dead artists and scrambling to revise and revere art history at the expense of mid-career and younger artists making work now, I fear our understanding of the whole reason art gets made at all is completely undermined. There is an endless of supply of forgotten artists from recent previous decades. This trend could go on indefinitely. If today's best 45-year-old artists watch this pattern expand, they can perhaps assume some level of appreciation about 20 years after their deaths, once the culture-mongers of 2074 decide that 2015 was really pretty fascinating. Though maybe the superficiality of our current digital era will never seem as nostalgia-worthy as, say, 1968.
I understand there's too much new art out there and not enough of it stands out (perhaps because so much of it is either a pastiche or mashup of earlier art), and I understand our attention spans are the shortest they can be without shorting out entirely. But this reliance on the (long) test of time to reassure us of something's value—and in the art world collectors and curators seem especially guilty of this right now—runs opposite to simply being alive and present in the world that exists and is revolving right now. And living artists have mostly, since the middle of the 1800s, been concerned with responding to their current world and making new things in new ways. The digital industry and its innovators have taken up that baton, while the rest of our culture seems obsessed with mining the past, and it's getting worse by the day.