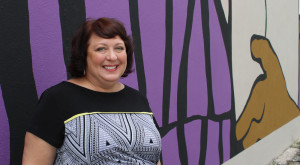 After eight years as Executive Director at Lawndale Art Center in Houston, Christine West has announced her resignation, effective May 8. West says she is leaving "to pursue independent projects and other opportunities."
West started in the position at Lawndale in 2007, and during her tenure shepherded in key initiatives such as the Artist Studio Program and the Mural Project.  West also served on the board of directors of the Texas Association of Museusm, Glasstire, and the Houston Museum District Association.
The current Chair of Lawndale's board of Directors, Nicole Romano, writes: "We have been incredibly lucky to have Christine lead Lawndale for the last eight years. She leaves Lawndale in very capable hands with a dedicated Board and staff and together we are making plans for a smooth transition." The Board of Directors will be putting together a search committee for a new director and will appoint an as-yet-unnamed interim director.