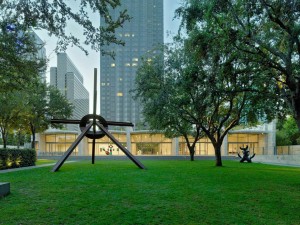 Exciting news. Today the Nasher Sculpture Center in Dallas held a press event to announce its new International Nasher Prize for Sculpture. Each year it will present the award to "a living artist in recognition of a significant body of work that has had an extraordinary impact on the understanding of the art form."  The award includes a $100,000 prize.
For this inaugural year, the winner will be announced in the fall of 2015 and the prize will be awarded in the spring of 2016. This year's heavy-hitter jury includes, as follows via the Nasher:
"Phyllida Barlow, artist; Lynne Cooke, Senior Curator of Special Projects in Modern Art, National Gallery of Art; Okwui Enwezor, Director, Haus der Kunst; Yuko Hasegawa, Chief Curator of the Museum of Contemporary Art, Tokyo (MOT); Steven Nash, founding Director of the Nasher Sculpture Center and Director Emeritus of the Palm Springs Art Museum; Alexander Potts, art historian; and Sir Nicholas Serota, Director, Tate." Also: "The jury will evaluate nominations submitted by a larger group of their peers in a process moderated by Nasher Director Jeremy Strick."
Our understanding of this initiative is that the award will consider the biggest names in sculpture (speculating, but on the level of Serra, Kapoor, et. al). Certainly the Nasher Prize and its attendant international press and events around it will further boost the profile of the city and region.
For more info, please go here.