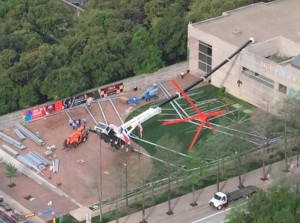 BREAKING: A crane has fallen over on the Dallas Museum of Art. One person has been taken to the hospital. More to come. Photo By Taylor McGannSTORY: http://on.wfaa.com/1FpX4kg

Posted by WFAA on Friday, April 3, 2015
Via the DMN: a crane fell over onto the roof of the Dallas Museum of Art around 9:30 am today, on the south lawn (narrowly missing the di Suvero); no art was damaged, though the crane operator was injured and taken to Baylor Medical Center.  The crane was being used to set up a tent for an upcoming event here in the midst of many, many art-related events in Dallas the coming week. The event, the Art Ball, is a big fundraiser for the museum and is celebrating its 50th anniversary this year.