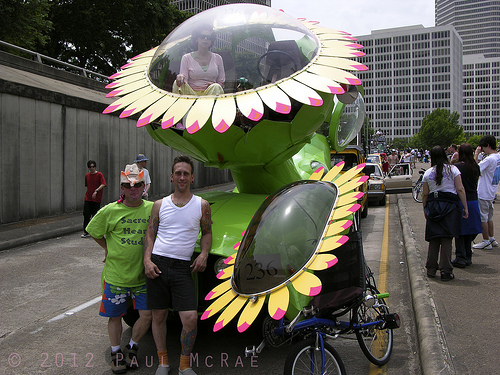 This year's Art Car Parade kicks off tomorrow morning (9am-1pm) with its Main Street Drag, allowing those that may be unable to attend Saturday's parade an opportunity to preview some of the participating Art Cars and meet with the artists. This year, the Main Street Drag will run along four routes throughout Houston, starting from Memorial Park and stopping at schools, hospitals, nursing homes, and other locations.
On Thursday evening, Houston's Discovery Green will host a Sneak Peak (6-10pm) of some of the cars, with a free performance by Aaron Neville. For those who want to shell out $25-30, the Art Car Ball takes place Friday night (6-11pm) at the Allen Center. The main event, the Art Car Parade, is Saturday (2pm), rain or shine. On Sunday (11am-2pm), the Orange Show will host the Awards Ceremony Brunch, open to all participants and their families.
On a sad note, the Artcar Nation website reports this morning that Sunflower Car artist Tim Young (pictured above in 2004) has died. The cause of death is not yet certain, but likely connected to a 2009 accident which left him paralyzed. He is survived by his wife Diane Iannucci. Artcar Nation suggests that Art Car participants and visitors wear a sunflower on their lapels or cars this weekend in his memory.