The Dallas Art Fair has looked better each year over its seven-year lifespan, and this one continues the trend. Most people by now understand that we're all meant to knock art fairs, generally, and while fairs aren't my favorite place to look at art, I like this fair. I'm sure I'm biased; it goes with the territory (ba-da-ching!). Most all of the kind of "filler" galleries that trade in decorative, crafty stuff have been kicked aside to make room for all the exhibitors from Antwerp and Helsinki and Tokyo and Mexico City, et al. This is a truly international fair. I don't mind the low ceilings at all anymore. The FIG building works—it's slick and intimate at the same time—and I'm getting attached to it. (Like washing a car in advance of a rainstorm, now that I've written that I bet the fair will move to another space in the next few years. Maybe not.)
I took a swing around it this morning for the press preview, and I'll share some observations and recommendations here. It's not a comprehensive list, but for all of you planning on getting over to FIG this weekend, I urge you to keep an eye out for the following. Apologies in advance for my terrible, terrible photography. I am uniquely impatient with cameras.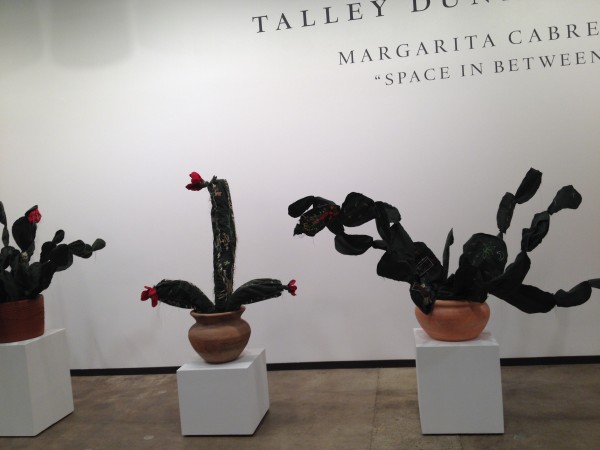 Talley Dunn Gallery continues to dominate in terms of marquee power, placement, host capabilities and installation. That gallery simply nails this fair. (Don't be surprised that I'm going to name Dallas spaces on this list. It makes sense that they know their audience and most of them have done this fair nearly every year.) A big, amusing installation of Margarita Cabrera sculptures greets everyone at the top of the main staircase, and inside the booth Dunn has something for everyone, or something by everyone. Erick Swenson's snails, Francesca Fuchs' trees, Robyn O'Neil (small works), Ted Kincaid, Helen Altman, Matthew Sontheimer, and something quite strange and sweet by Kana Harada.
Conduit Gallery brought what is one of my favorite things to see at an art fair: Bushwick artist Jaun Fontanive's small, motorized rolodex-y animations of hummingbirds and butterflies. I will not apologize for wanting to steal one. It's geeky and romantic and it also sounds fantastic. The soft whispery flipping noise is perfect for the imagery. Conduit just generally looks good this year, period.
Franklin Parrasch out of New York should be a case study in how to install a small booth. The scale, color, and placement of the work and the careful spareness of in the space is supremely confident without yelling. No photo could capture this so you should just go see it.
This is Zhulong Gallery's (Dallas) first year at the fair, and they're featuring new work by New York's Renee Cox. A gallery known for new media of course brought video, and Cox's ultra-collaged kaleidoscopic trip of bodies and body parts plays well here.
A Toronto gallery that was new to me, MKG127, features quite a few appealing works. It's a playful booth, but I was most taken with David R. Harper's lusciously embroidered take on an old Dutch still life. It's a gimmick, yes, but a good one—a little spooky.
The Green Gallery out of Milwaukee has a nice set of collaged drawings by Peter Barrickman, all acid colors and geometric abstractions of views out of airplane windows. They're charming.
Sicardi Gallery out of Houston brought a nice array of veteran artists' work. I should have shot video of Carlos Cruz-Diez's sharp and complex op art: instead I took two pictures so you can see how it shifts as you move. These pieces are so well-crafted you just have to sort of surrender to the trick. He's in his 90s now.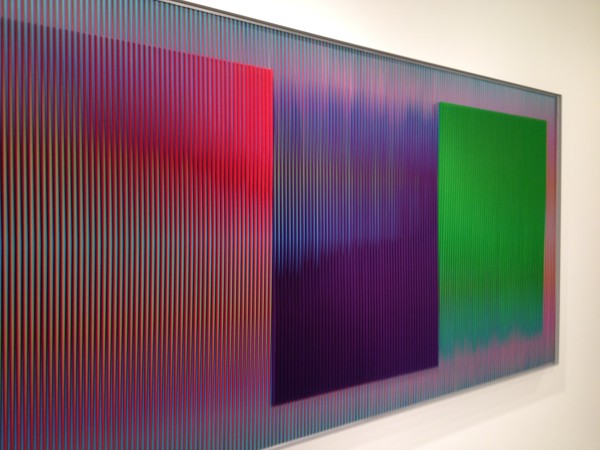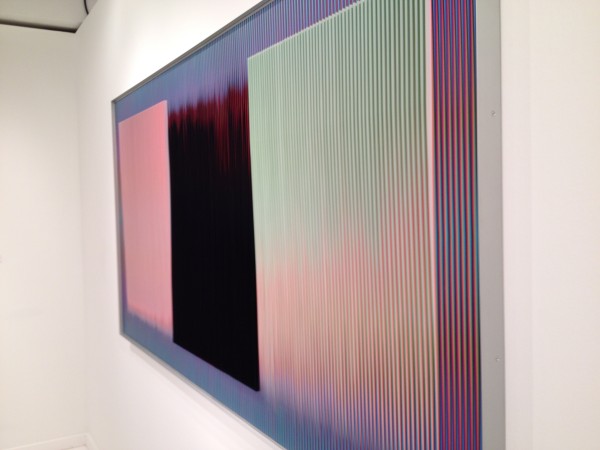 Gallery Forsblom out of Helsinki featured the painting used for much of the fair's publicity. Chantal Joffe's portraits, generally, read like more personable (yet moodier) Alex Katz. This one looks very good in person—fast but sure.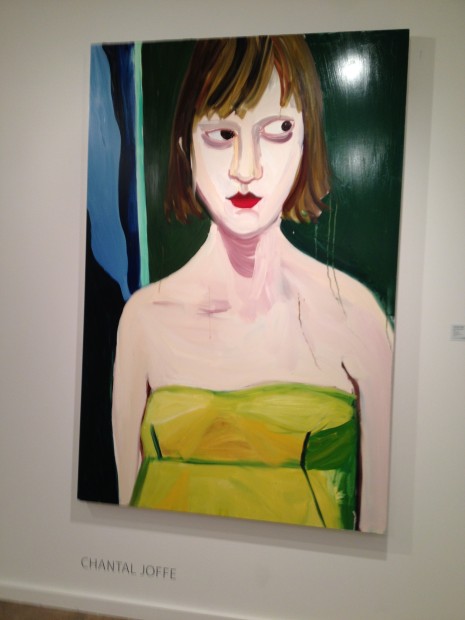 Lisa Cooley did the right thing and brought a prime Andy Coolquitt. Lightbulb! I'm a fan. I didn't take a picture. Another picture I failed to take was of a big woven hanging textile piece by Yann Gerstberger at Los Angeles' LTD Gallery. It's showing some nice work overall.
There are always at least a couple of galleries that show older secondary-market work by big names. I never mind unexpectedly running into the odd Guston or Kiefer or Motherwell at a fair. Why not? I just don't want to see too much of it. William Shearburn out of St. Louis has this kind of thing.
So go! Go see the fair. Buy something if you can. For all its flaws, one ace in the hole Dallas really has is its skill and genuine thrill in hosting visitors. Let's keep it up.