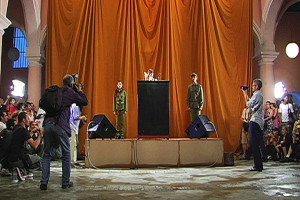 On Monday, April 13, from 12:30-2PM, three Dallas museums have gotten together to re-stage Cuban artist Tania Bruguera's participatory artwork, Tatlin's Whisper #6, which allows members of the general public to come forward and speak freely for one minute about aspirations or politics. The event will be staged on Flora Street in front of the Nasher Sculpture Center.
Bruguera herself will not attend: she was arrested last December when she staged the performance in in Havana's Revolution Square in her native Cuba, and the Cuban Government has branded her a "counter revolutionary." It seems unlikely that participants in the upcoming Dallas event will face similar sanctions.
The Dallas staging of Tatlin's Whisper, collectively sponsored by the Nasher, the Crow Collection, and the Dallas Museum of Art, is part of a nationwide show of solidarity: museums across the country will be re-staging the performative piece. MoMA, the New Museum, the Queens Museum, and the Hammer Museum are among the participating institutions, and Creative Time will re-stage the work in Times Square's Duffy Square.