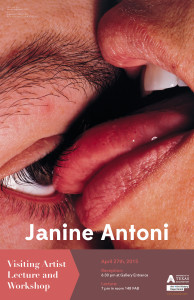 The ever-interesting international art star Janine Antoni is coming to the University of Texas at Arlington on April 27 to give a public lecture (and to lead an MFA workshop). Those of you who've toured Rachofsky's collection in Dallas should be somewhat familiar with her work–he's clearly a fan; the Bahamas-born artist is well-known for her sculpture, performance and process art. She received a MacArthur fellowship in 1998.
The lecture will take place on Monday, April 27 at 7 p.m. in Room 148 of the Fine Arts Building, 502 South Cooper Street, Arlington. Just before the lecture is a brief reception (6:30).  This lecture is free and open to the public.
Update: The reception is now slated to begin at 6 p.m.