This year's fair was fenced off by Marcin Dudek's Border in Motion. It wasn't too hard to get through. I was told that on opening night, the artist was tearing pieces of foam off this wall and giving them away as souvenirs (Berlin=Juarez/El Paso, get it?). Two fragments were on the wall outside Edel Assanti Gallery, and were some of my favorite pieces; undercutting the financial machinery of the artworld is always fun, but especially at an art fair: nowhere else can you make as pointed a statement about commodification, while still being so wretchedly complicit. I didn't ask if they were for sale, or if anyone minded that they could have had one free on Thursday night, or, for that matter, that they could make one themselves whenever the fancy took them. (If  making one yourself is too much trouble, knockoffs of these wonderful objects will be available for $26 through Bill's Junk, Houston almost immediately. No need to pre-order,  the edition is unlimited.)
The fair has done an excellent job of attracting media attention.  Artsy has put pictures of more or less everything online. What's left for me to do? Carp. It's the one thing you won't find on Artsy, Blouin Artinfo, or anyone on the list of media sponsors at the bottom of the fair program's title page. National media coverage of the fair I've read so far consists entirely of who sold what, how rich  and openhanded Texas collectors are, and how surprising that is.
First the good of the fair, then I'll get down to complaining:
This is my favorite art fair anywhere, ever. The hallways are small, the ceilings are low. It's not too big and exhausting. It's homegrown, and probably has the lowest proportion of schlock of any fair I've ever attended. You can't do better than this and still be an art fair.
It's well known that art fairs flatten everything out, making even good art seem a hopeless waste of time, but some kinds of works fare well. Op, for one; it's art where two seconds is enough, and ten seconds is too much.
Humor is another- a fair may be the best place to see funny art. I think it's the  brevity thing. A funny piece is twice as funny alone in a crowd of straight men, while five funny pieces in a gallery show are like a cocktail party full of standups.
I thought these were funny. Stupid, too, and stupid art does well at fairs for the same reasons funny art does: contrast.
This dumbass art was too stereotypical for me, too posed, but it was a change, anyway. I preferred the slice of backstage abjection below, which I found, and hereby claim as mine:
Renee Cox's body kaleidoscope projections show that short, formal, non-narrative video can hold its own, too. (I think this was the fair's only video.) Like all kinetic art, they take advantage of the hardwired moving-target predator reflex, in this case augmented by sex. They propose a disturbingly ambivalent glamour goddess/meat puppet view of women, too. How can you lose?
. . .more to follow later, gotta go manufacture some Styrofoam walls-chunks . . .
Enjoy this interlude from Buc-ee's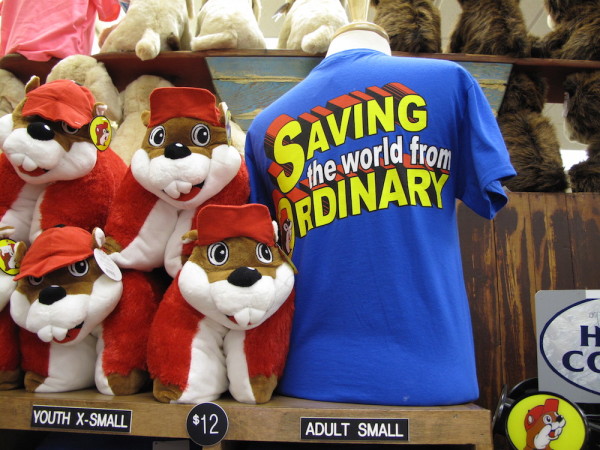 Thanks for waiting.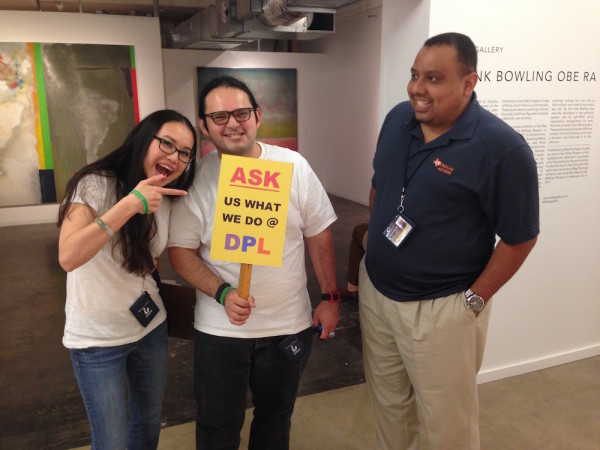 While tracing my way through the halls, I encountered this bunch. Seeing as I was reporting on the fair, I asked about their sign. They are spreading the word about the Dallas Public Libray's Fourth Floor Art Gallery. Never heard of it? Neither had I. It's curated by librarians, maybe these very folks.
At the top of the stairs, Margarita Cabrera's ubiquitous sewn cacti were looking pretty good. Detailed, labor intensive, and guilt free. I've heard she pays the women who sew these things for her a percentage. I'd like to hope it means that some fairer-than-usual portion of their price is going into the pockets of those workers. Knowing that, I'm actually rooting for the excessive, fetishistic craft of these pieces, rather than seeing it as a grotesque squandering of human effort.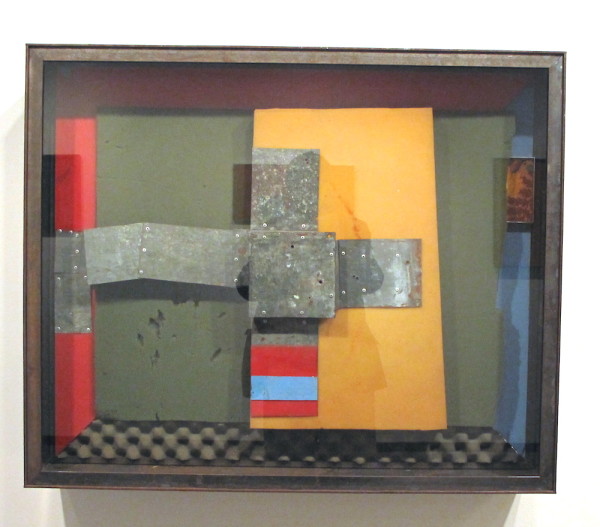 Kirk Hopper Gallery had two steel-and-found object collages by cult figure James Magee of El Paso. I took pictures of them because actual pieces by Magee are as scarce as the ivory-billed woodpecker, and I wanted a record.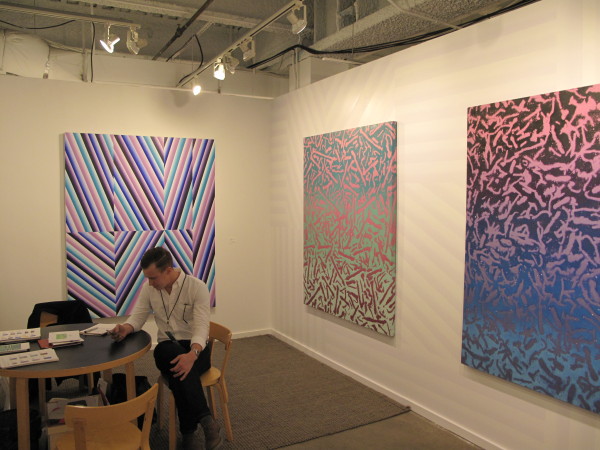 Nathan Green's showing at Barry Whistler Gallery was the nadir of the fair for me. I often like Nathan Green's work, but I would have walked right past these bland new pieces. Of course, they sold. I took pictures of three of the paintings, and figured I didn't need the rest, since they were exactly the same. I get depressed when living artists I know get bitten by zombie abstraction.
Downstairs, a lone Mark Flood at William Shearburn gallery was nothing special until my flash turned it into a magic mirror. All it needs is a wicked queen, so it can assure her, after she's bought it for $100,000, that she's the fairest one of all.
With splendid appropriateness, Shearburn had hung a selection of these game-box pieces by Tim Liddy on the wall directly to the right of the Flood.