I actually did cry all the way through School of Rock. Not during Dewey Finn's painful failed mosh at the beginning, but soon after that moment in the film something in it opened something in me and the tears just leaked out for the duration, as if through slits in my skin. Those tears may have been reserves or they may have been prescient, but either way, I've been wondering about them for nearly twelve years.
Until today.
The same thing happened again. And again the catalyst was a film, author Joe Nick Patoski's directorial debut: Sir Doug & The Genuine Cosmic Groove, screened today at the Empire Theatre, as part of the San Antonio Book Festival.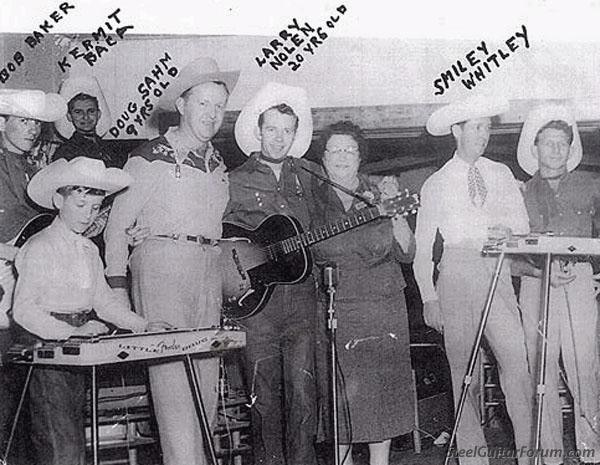 Early on the film makes plain what a prodigy Doug Sahm was. And Louis Black's remarks in the Q and A that followed the screening make the point that his early exposure was direct, not just from hearing songs on the radio and records, retelling how Sahm performed at age eleven with Hank Williams at the Skyline Club in Austin. Even before then, Little Doug, as he was known, had already been performing for several years in San Antonio including on the Stars Over San Antonio radio show in 1947, where he sang the Vaughn Horton song Teardrops In My Heart. These early parts of the story are accompanied by a telling image of a young Doug sitting on the bumper of a 1941 Buick Roadmaster holding his Gibson ES175. He's already brimming with confidence and charisma — Shawn Sahm's voiceover: "He knew he had it."
Groove is also full of laughs. Augie Meyers and Frank Morin both provide seriously funny anecdotes about the Tex-Mex British Invasion that was The Sir Douglas Quintet as they appeared on Hullaballoo, including this comment by Morin, "And they could tell some of us weren't from England. Maybe the west side of England."
And poignant moments — Shawn Sahm's story about his dad noticing some lyrical similarities in songs by each of them. "Did you get that from me?" asks Doug. And Shawn, "Don't you know I got it all from you?"
And moments that cut through it all — the reel to reel tape made by Sahm's wife at the time in which she threatens to leave. No bullshit, and make that with two Ts.
It also took me down me down some roads long gone. The one off Bee Caves Road in Austin that used to lead to the Soap Creek Saloon appears for a few seconds before anything is said about it — but even without the words that confirm what it is, the image of this road will be instantly recognizable to anyone who ever bumped through its potholes in a car going 3 miles per hour.
The thing is, and this is what I realized about all those tears, Sir Doug's musical generosity and his mercurial enthusiasm, just him as a love giver I guess — these are the qualities born out in the film such that he comes to embody everything good anybody's ever done that went unnoticed or unappreciated. He's a beacon that shines a light on all that lost goodness and opportunity, the stuff that floats up toward the turning sky that maybe not everyone pays a mind to. But it comes back down and falls on all of us. Real gentle-like.
I sat in my chair in the theatre in a state as the ending credits rolled by. I was unable to move, but eventually I joined the standing ovation. It wasn't the only thing that happened that made me feel part of something.
People hung around later, but I couldn't linger to speak to anyone, I wanted to keep the feelings I was having close. Considered driving down a few miles south on the I-37 frontage road to see if a certain tire with the words A World Is A World painted on it was still hanging on its fence post. Was overwhelmed by hunger too — it was 3 in the afternoon and I had not yet eaten. Teka Molina loomed large. But in the end I just went home.
Coincidentally there was a message for me at home from Diana Collier, a singer I met last year in Leigh-On-Sea, England. Since that trip I had corresponded off and on with a few people there about the magic of their musical community and the words that I found waiting after I got home from the film was more of that. Flaco Jimenez was mentioned. Seemed about right.
Then we went to get some enchiladas.
_______
Sir Doug & The Genuine Cosmic Groove will be screened in Marfa at The Crowley Theatre some time in May. For further information check http://www.cinemarfa.org
It will be worth the drive.
Hills Snyder's published writing is collected online. Coming sometime, maybe even soon, more about the 2014 Leigh Folk Festival.