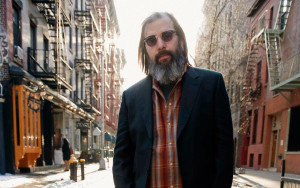 … here's one: Steve Earle is slated to play at the Crowley Theater on June 14.
The great singer-songwriter (and soundtrack composer/actor/Renaissance man) Earle recently released his newest album Terraplane, and like his other more recent (Grammy-winning) previous ones, this one explores an American music genre in a hyper-focused way. Terrraplane is his Texas blues album, thus influenced by Freddy King, Robert Johnson, Stevie Ray, et al. So it makes sense that Marfa could finally lure him out to play a show.
This performance is full band, so it's really Steve Earle and the Dukes, and it's brought to you by Ballroom Marfa. Tickets are cheap! $15 members/$30 non-members. For more info, go here.