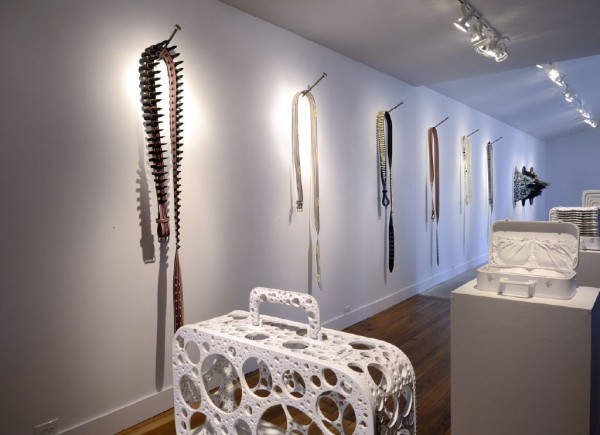 GrayDUCK Gallery in Austin is showing Colorado-based Terry Maker right now, and in that space her works are large, vibrant, and busy. While grayDUCK has historically shied away from solo exhibitions, I applaud this move; this sharp series of new works, in a show called "Holy Fool," deserves the more focused contextualization it gains in grayDUCK's lovely space. I'm interested to see to what grayDUCK will do, curatorially, with this new direction if it continues with solo shows.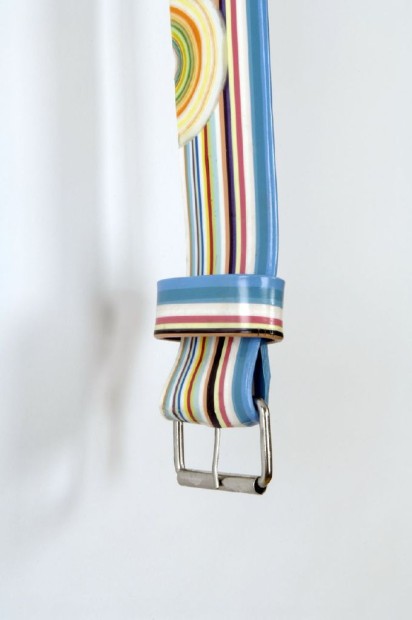 Maker's work presents a variety of specific manifestations: There are her reinterpreted books, belts, oversized objects of banality a la Claes Oldenburg, white suitcases, wall sculptures and a couple of traditional paintings. The long wall featuring supersized belts droopily slung over enormous nails presents an interesting visual  rhythm. In Jawbreaker Belt on a Nail, Black Belt on a Nail, Spineless Belt on a Nail, et. al., Maker is reaching for a conceptual framework, in that they feel like a key to the rest of the works in the show, with titles that catalog her obsessions. While the visual language is rather playful, boasting bright colors and, at least superficially, evocations of toys and candy, it all seems to mask something more serious. Maker is dredging up something subtly darker.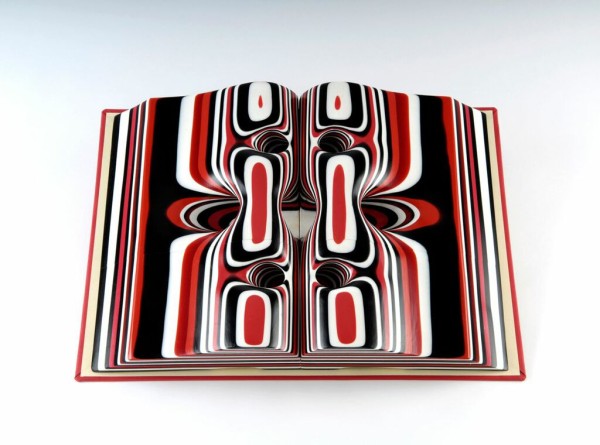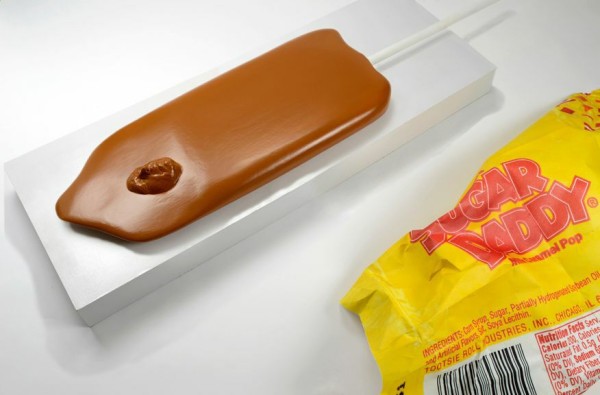 The sculpture Self Portrait in Sugar Daddy points to some sort of self-deprecating memory of a time spent dependent on someone wealthy. And the never-ending layers of the jawbreaker (always represented as a cross section to reveal its rainbow innards) appear again and again, implying that those desired layers of colored sugar are only revealed by determined sucking. Black White and Red reminds me of totems from the tribes Pacific Northwest; it's impressive in its color use alone, and I would have loved to see a Maker exhibition purely focused on this color scheme across all of her strange objects. Any self-imposed limitation could further focus the work and its impact.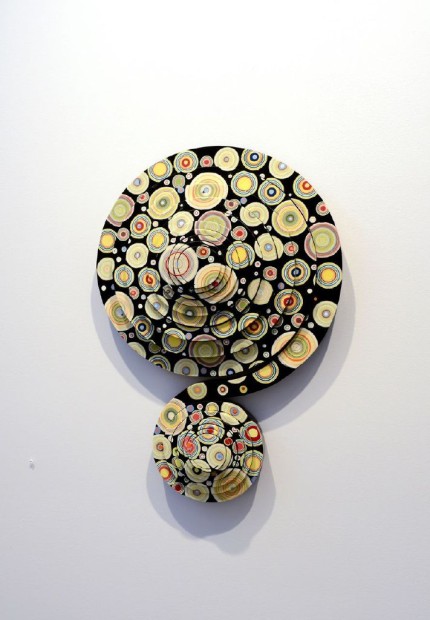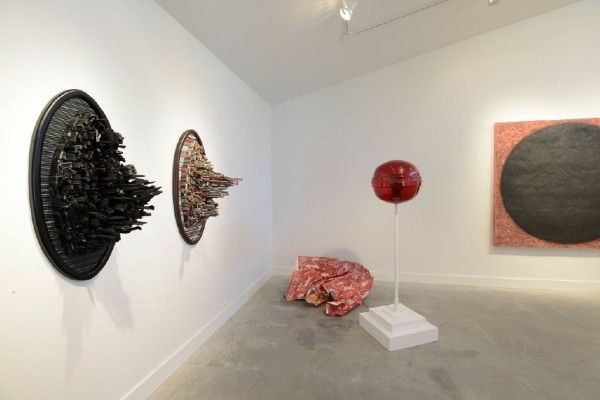 Maker has transformed grayDUCK from a serene, open space to a maze of disjointed fractions. The exhibition rolls 30 pieces deep, which is a high number given the scale of the works. Beyond the books and white suitcases and belts, etc., there's a laundry basket of floating Swiss cheese stacks, an absurdist hat, wall pieces with monochromatic toys and objects comically thrusting into space (and toward your face). "Holy Fool" is an overcrowded party of sculptural objects, each one yelling for some attention. It becomes a competition. The show could use more curatorial direction, especially in the editing of the quantity of pieces. Terry Maker has something to say with this work, but her swirling ideas of candy and books and belts needs a proper Pecos Bill of a curator to wrangle and tame the tornado she delivers.
'Holy Fool' is on view at grayDUCK Gallery until May 3. 2213 E. Cesar Chavez, Austin TX 78702