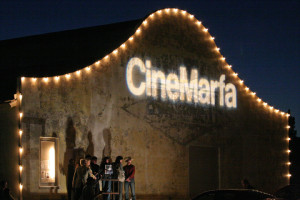 CineMarfa, the annual art-meets-film festival founded as a non-profit in 2011 in Marfa by Marfa-based film lovers, is going with a science-fiction theme this for this year's lineup. The screenings and presentations will take place from May 7-10 at the Crowley Theater. If you're looking for a reason to go west, we can attest that the weather out there is great right now, and the view of our Milky Way is a perfect scene setter for this year's theme.
The program blends regional filmmakers and visiting artists, and among this year's highlights are Afro-Futurists shorts by the likes of Sun Ra and George Clinton, presented by one of the genre's experts, author John Corbett; Scott Reeder's feature debut Moon Dust; a program of six remastered shorts by Austin filmmakers which will recreate a circa-1981 "screening organized by Jonathan Demme at the Collective for Living Cinema in New York City;" and a definitive documentary on the one-and-only H.R. Giger. Also, if you haven't seen it: Lizzie Borden's 1983 fantastic mindbender Born in Flames. There's far more than this, though.
For more info and a full rundown of what will be on show, go here.