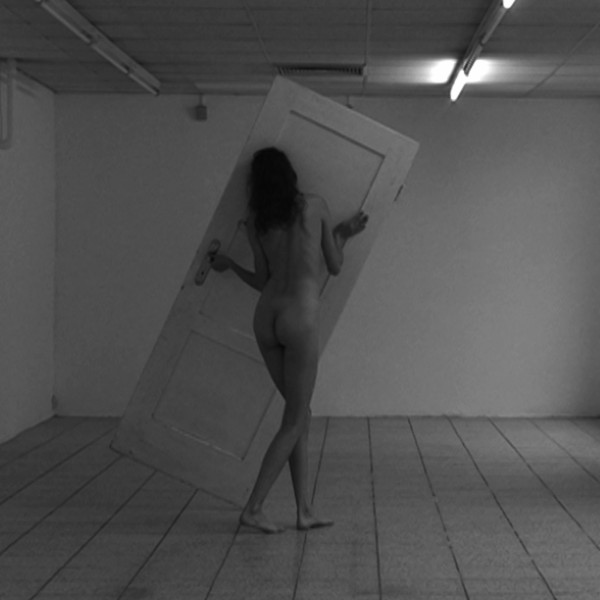 Justyna Górowska is obsessed with Francesca Woodman's photography. Over the past several years, Górowska has set about to remake some of Woodman's weirdest atmospheric images as short performances documented on video. The body of work that has emerged is interpretive rather than slavish. The very title of the project — "FWJG," derived from the initials of the two protagonists — speaks to its being an essentially dialogical engagement with the work of the earlier photographer. At the opening of the exhibition at Cydonia, Górowska presented a final performance, thus bringing to a close her stunning and complex homage to Woodman.
The system that the Poland-based Górowska invented in order to make this work is simple enough: she devises a performance, documents it using video, and then selects a single frame that is printed in 2-1/4 x 2-1/4-inch format. All the imagery in the exhibition is black and white, just as in Woodman's original work. There is also a lot of soft focus giving the images a ghostly appeal.
What does all this add up to? In an odd way, it's like watching someone else's memory unfolding, going for a walk. Happily, Górowska's work abates the overwrought romanticism Woodman borrowed from one of her mentors, the fashion photographer Deborah Turbeville. It's helpful to know that Górowska's images, while inspired by Woodman's, exist at a remove from photography.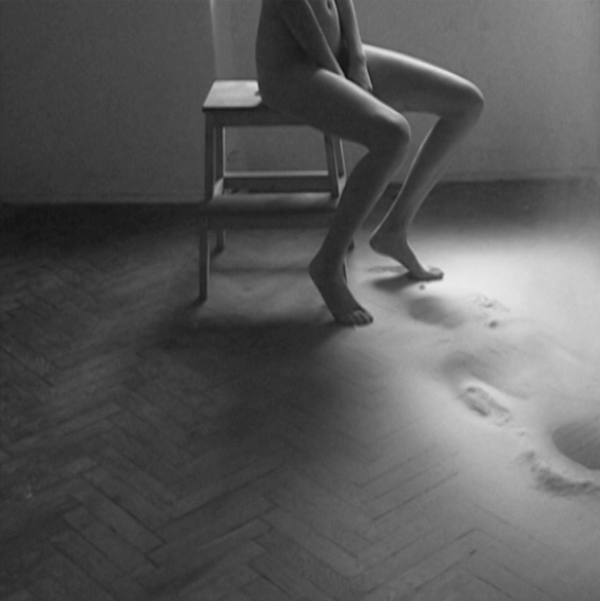 For me, this makes the work seem less claustrophobic, less "breathless." The "heaviness" that often attaches to the recapitulation of another artist's work by a distant generation is expunged. The slow-motion projection of the performance videos, for example, adds a note of stateliness to the project. Górowska keeps her focus throughout the series and manages to reinterpret Woodman's source imagery with deference, grace, and wit. It is a beautiful exhibition to experience because of the way Górowska gives form to her imaginative experience of Woodman's work.
A knowledge of the original works by Woodman that Górowska is citing and reimagining is absolutely necessary. Górowska's identity as an artist becomes clear once we identify the source material, since her process of redescribing Woodman is an act of translation that is indelibly marked by her own life-world. The specific aspects of Górowska's translations are indicated by the degree of self-effacement communicated by the videos and still images. For instance, the face of Górowska — who is usually nude throughout all the performances — is rarely glimpsed full on. The extreme cropping of some of her performance videos adds a disturbing sense of dissociation. Overall, I was relieved to see little of the self-aggrandizement so evident in the work of some performance artists.
With "FWJG," Górowska has opened up another field of performance art, one that is more conceptual in its documentary use of photography and video. In some ways, her work bears the hallmark of conceptual photography and video as developed by Eleanor Antin, Keith Arnatt, and Dan Graham. Górowska's realization of "FWJG" would be impossible, in my view, without such an informed and integrated use of performance, video, and still imagery.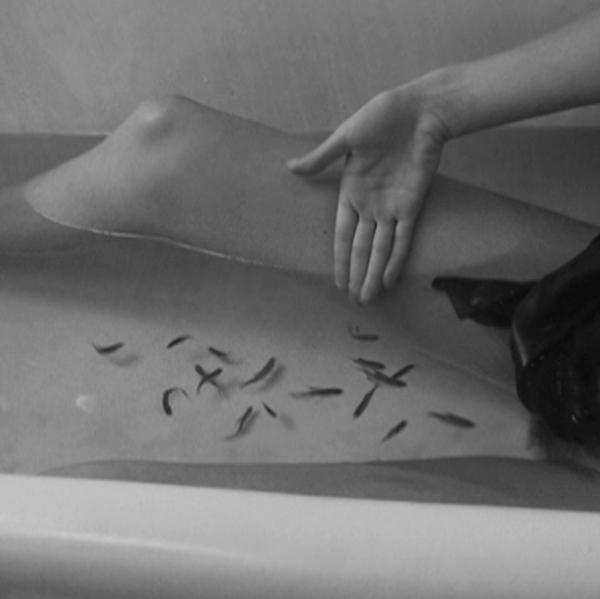 I leave to the viewer the pleasure of puzzling over how Woodman is channeled by Górowska. But I will say that the quality I admire most in Górowska's performance of Woodman is defamiliarization. Woodman's still photography is repeatedly made strange through Górowska's performances and the resulting images, even when these performances employ settings and props that are remarkably similar to the original source image. A wonderful example is Górowska's performance that ultimately generates a still image of a door balancing precariously on one point. Viewing the video, we perceive a door pivoting slowly in the space of an empty room; in reality, it is Górowska who animates the door, yet throughout the performance her figure remains completely hidden behind it.
By taking such liberties in the re-presentation of Woodman, Górowska draws attention to something more than Woodman's identity as an artist, as the first maker of a meaningful image. What Górowska manages to conjure from Woodman's still image is a script, a plan for a performance of a series of actions or gestures which taken together form something like a ritual. This complex transition from image to performance to image is a testament to Górowska's intention to set aside the sensationalism that has sometimes ruined our appreciation of Woodman's work and also infects much of performance art. Górowska's pared-down performances and still imagery render a short, sharp intensity of feeling; brief yet no less gripping than the effect of some of the films of Ingmar Bergman or Bela Tarr.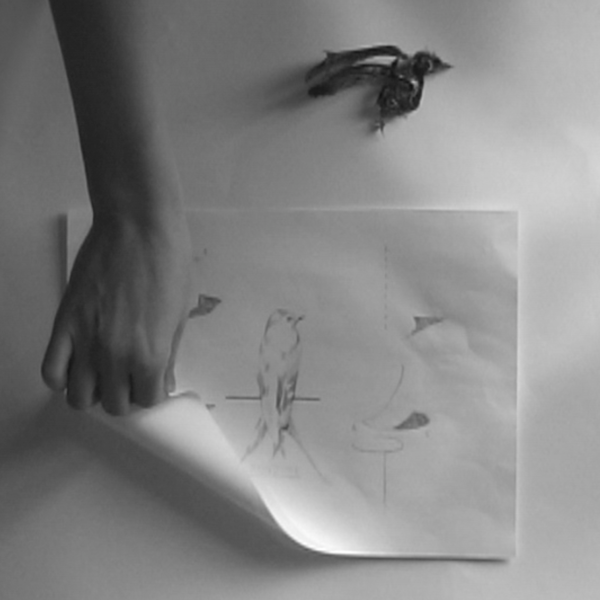 It's quite an achievement to take such a charged body of work — as Woodman's surely is — and reposition it by animating it in this manner. Górowska reminds us that video — or its precursor, cinema — is simply a succession of still images through time, and photography can indeed present a convincingly decisive moment. We grant photography this particular power to evoke because we know that so much has happened off camera, outside the frame. We compensate for this when we spin a narrative around the singular, serene photograph. In Górowska's work, the process is turned on its head, as it is the performative event that is fashioned with the intent to produce a still image.
Through May 8 at Cydonia, Dallas. All images courtesy Cydonia.