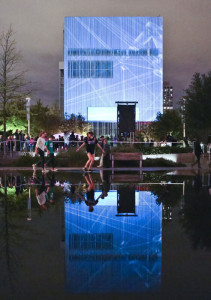 The established Aurora Festival might be Dallas-based (not to be confused with Houston's Aurora Picture Show), but you don't have to live in DFW to be featured.
The big multi-media festival, which specializes in projecting light, video and sound across the downtown Dallas Arts District and Klyde Warren Park for one night every two years, is gearing up for its 2015 iteration, which takes place in October. Right now there's an open call for artists to submit proposals.
Aurora likes to mix up local, regional, and international artists; feel free to submit something if your art has a sound, video, internet, light, digital/mobile platform or performance component. This is a truly varied and fluid affair. There is no submission fee.
Via Aurora: "Visitors are offered the unparalleled opportunity to see their familiar urban environment converted into an interactive site for some of the world's most innovative contemporary art. Aurora's aim is to liberate art from space and disciplinary confines, involving the general public and the international arts community in an inclusive and larger cultural conversation about artistic experience."
In other words, think big. Or tiny and subtle. It's up to you. This year's curators are Aja Martin, Tim Goossens, Carson Chan, Shane Pennington, Joshua King, and Julia Kaganskiy.
For more information on how to submit a proposal, please go here.