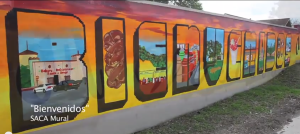 San Anto Cultural Arts, a San Antonio-based non-profit arts outfit that gives support to artists and creative people of all socio-economic backgrounds, has just announced its appointment of a new executive director, Pablo Miguel Martínez.
San Anto, established in 1993, is known for its public arts and education art programs, its youth outreach and mentorship programs, and its inclusive M.O. around building skill sets for young people around the arts.
San Anto's board of directors writes this about Mr. Martínez:
Mr. Martínez is a San Antonio native who previously held senior management positions at the Guadalupe Cultural Arts Center, the New York State Council on the Arts, and Meet the Composer, where he developed and implemented a large-scale international artist-exchange initiative. Most recently he has held teaching positions at Our Lady of the Lake University, Lone Star College, and the University of Louisville. A published poet and essayist, his work has appeared in various literary journals and newspapers. His collection of poems, Brazos, Carry Me (Kórima Press) received the 2013 PEN Southwest Award for Poetry. Martínez's poetry chapbook, Cuent@, will be published by Finishing Line Press later this year. Martinez will begin on June 9, 2015.
For more info, go here and here.