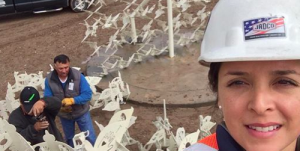 This story is getting weirder by the day. The artist Margarita Cabrera makes a public work for the city of El Paso according to plan, the city (or someone at the top of it) decides that the gun parts used as a motif in the sculpture are unacceptable even though the design was fully approved beforehand, and then the sculpture is cut apart and taken down while Cabrera wasn't in town. Censorship? And if the city never formally accepted the finished piece, the piece still legally belongs to the artist.
Today a press release from the studio of Margarita Cabrera made it clear that despite her many attempts to retrieve the commissioned artwork, titled Uplift, El Paso is not cooperating. Cabrera does not know where the sculpture is or what condition it's in.
If you've been following this strange tale here and here, you know that the artist suspects that the artwork was damaged beyond repair or recognition when the city swooped in to remove it. Cabrera says that city has never been clear with her about how they can justify breaking its end of the contract over the artwork considering the design of the project was approved at all stages.
El Paso is, by Cabrera's accounts, claiming that it owns the artwork now (though it will not reinstall it) and that it will pay Cabrera the agreed-upon original fee of $70,000. Cabrera has acquired legal counsel since April.
She wants the work back, not "go-away" money.