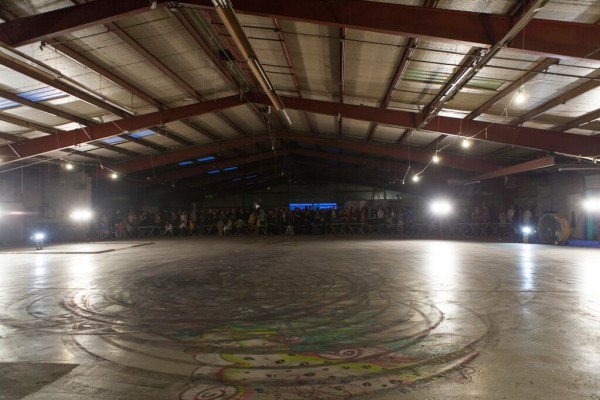 And the animals came in two by two.
We arrived at the massive lime-green warehouse in Dallas' Trinity Groves to see Francisco Moreno's long-awaited hot-rodded Datsun performance.
Those who know Moreno will have known many of the structural elements long in advance: there would be a 1975 Datsun 280Z, it would have a monstrous over-bored 5.9-litre Chevy engine shoe-horned into its modest engine bay. Moreno's brother, appropriately named Pablo, who does these things for a living, donated the Datsun's shell and would race prep it as well as perform the stunts. Directly behind it would be Moreno's large painting, riffing on WWI and WWII Royal Navy razzle-dazzle camouflage, invented originally by a British zoologist who persuaded Winston Churchill, then First Lord of the Admiralty, that this would best disguise the nation's fleet. This then would be the inspiration for the livery that merged Moreno's pastiche of Washington Crossing the Delaware—for both the epic canvas and the skin of the car. The car, like the canvas, would be pregnant with this notion of history as well as 'art performance.' This much had been semaphored through social media for some time. The element of surprise, then, had been for better or for worse surrendered.
And so it came to pass.
My wife and I arrived across Dallas' new Brooklyn Bridge thing, dodging cataclysmic rain storms. And the streets around the lurid green shed were packed with cars: curators' cars, artists' cars, museum directors' cars, art collectors' cars, journalists' cars. Art advisors' cars, artists' friends' cars, friends' moms' cars. A sizable chunk of Dallas turned out and seemingly half of its art scene. We parked down an adjacent street, as yet ungentrifed—chain link fences, old pick-ups, little dogs tethered in front yards, a working family in a large warehouse next door with giant rolls of things stacked and leaning and falling over: large rolls of paper or carpeting. There are still parts of inner Dallas that feel like they're not ready or willing to be part of Google Maps.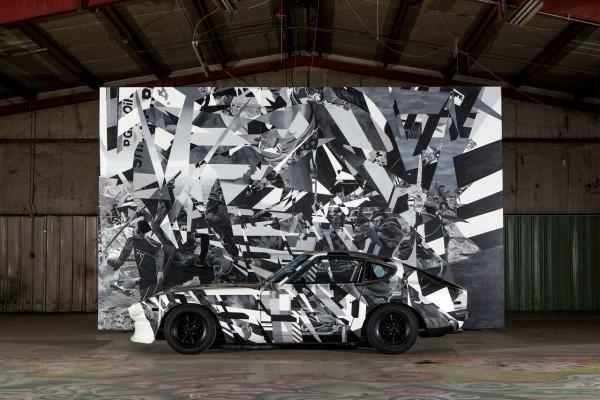 And so it came to pass that the gathering crowd filed into the giant shed under the immense blackening sky, a bit like the opening scenes in Mad Max: Fury Road where the proles wait at the edge of the citadel's cliff face for the Aqua Cola to be released from above by the powers that be.
And it came to pass that there were cans of free cheap beer in the giant shed, and we drank the nectar from the cans and we amassed at the inner fence that separated the art congregation from the art altar. And at the altar, like a triptych in a cathedral, was Moreno's immense painting. And in front of that, pointing from right to left—back toward the past, if it were words on a page—was the 280Z.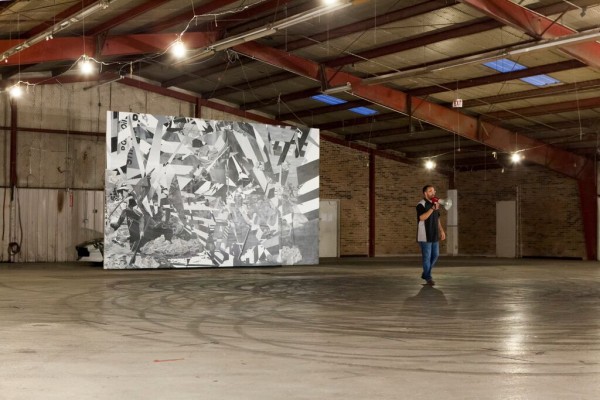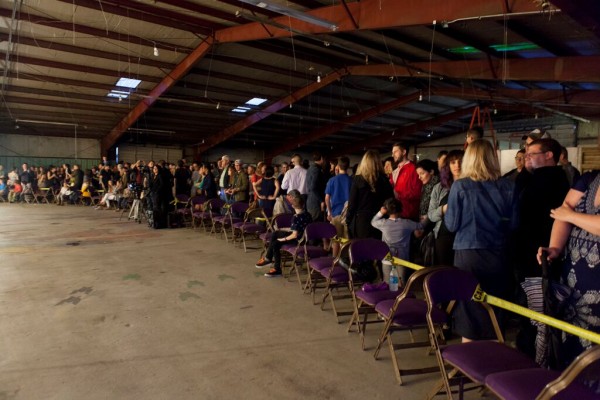 After an overly informational megaphone announcement by the artist, finally the Chevy-engined Datsun burst and rumbled into life, and it edged forward off its marks, and circled slowly out front and then behind the painting and then back out front and center, where it would stop momentarily. Pablo would stroke the throttle with his boot, his gloved hands set on the wheel, his body language beneath the full-faced helmet focused, his eyes maybe a little tense. He could not, after all, broadside his brother's painting and take them all up in a pyre. I glanced around anxiously for a fireman or his truck. There wasn't one; I guess they were all out on the levees.
And then once more the car disappeared behind the painting—perhaps three passes in figure eights—suggestive of some sort of auto foreplay, like the preamble to something more prosaic and throbbingly bestial. And then the car stopped again and revved in gear against its brakes, and there was a slight squeal from the rear tires… this was it! But, no—not quite yet, the car slipped slowly back behind the canvas one more time, like a stripper's teasing reveals—and then around in front again and then it stopped, and then finally this time the engined roared. Not as loud as I'd have liked—not full-blown Wagner loud, but loud enough, I guess—and the car lurched forward and Pablo threw its tail out and around they spun, pirouetting around the car's front axle which stayed prettily on its spot, as if caught in a whirlpool, and what we all knew was going to happen, did happen: Several well-orchestrated and tidily executed revolutions, nursing the car's rear differential so as not to overheat it. No excessive blue smoke, not too much burned rubber, no blow-outs; no red-neck-Talladega-Nights-raucous-Texan-thick-necked-jock-suited-raceway-umbrella-girled behavior. All very restrained, very ritualized. Very art world. Like some kind of giant genuflection, like a Holy Communion.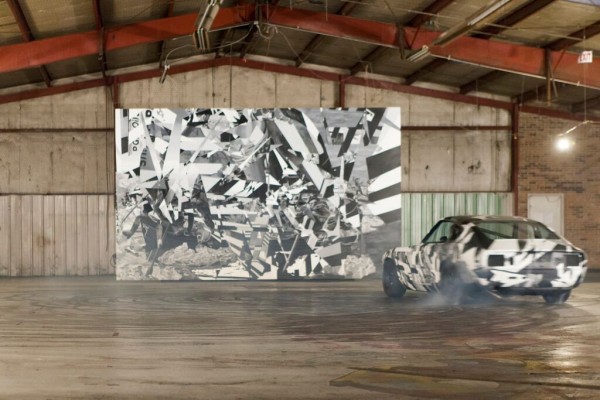 When it was over, the brothers, along with Brandon and Joey who had helped build the Datsun, lined up and took a bow in front of the car, because it was undoubtedly and self-consciously a performance. Perhaps it's too corny to say that it was balletic, because is wasn't quite that – more a warm up to a dance. But definitely a ceremony of sorts.
There was a feeling among the crowd that this neighborhood, with its view from the bridge, is enjoying one of those special real-estate moments where interim scenes (at the invitation of Dallas developers) get to interlope in uncertain and edgy ways (unlike the completed holiday-village theme restaurants of Trinity Grove across the street). That maybe something fabulous and unexpected can occur here, something—in art terms—vaguely 'illegal,' something wild, something heinous, something bad.
I'm not quite sure this did happen on this occasion. A few people muttered that they wanted more; more donuts, more smoke, more noise. But the ambition was there in spades, and you sensed that the crowd wanted more of this kind of stuff. It was a leap in the right direction. (And good for Soluna, by the way, for coordinating and bundling so many of these events together.)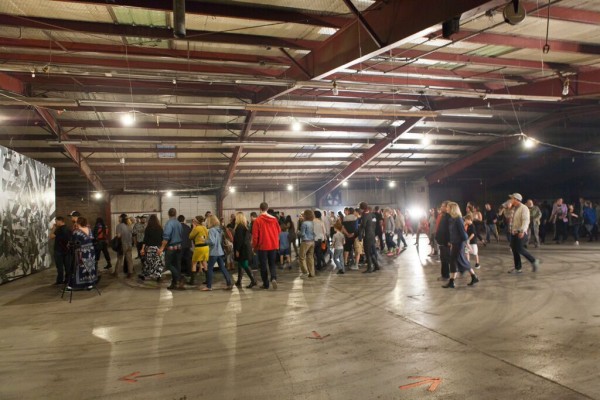 We were then invited up to the altar to examine the relics. Everyone peered at the car. The painting got less attention than it deserved, I think. I walked up and leant into the engine bay. I was struck that a Datsun 280Z is actually a little bigger than I thought, bigger than say an MGB and similar to an E-Type Jag. The engine bay was fairly large, and the Chevy V8 seemed to fit with room to spare, room for a blower and some extra radiators and oil coolers. The small block Chevy 350 is a relatively crude unit by now: a push-rod engine—a throw-back to a bygone age in engineering terms—perhaps somewhat less sophisticated a unit than the Nissan/Datsun's overhead cam in-line six that it ousted.
And then I leaned through the window into the cockpit and looked at its stripped-out interior and single bucket seat, custom aluminum racing dash, and I breathed in the car's interior, which smelled like so many old cars and bikes I know and love; remnants of gummy gasoline in old fuel lines, ball-joint grease, battery acid, oil, rubber, transistors, soldered wiring, mildew on old vinyl, the perished foam rubber from under the discarded carpets, leather and furniture polish, even though this car might have never seen any leather. Old cars have a complex perfume that invariably conjure leather. I love the smell of old cars; they're like incense and candle wax and silver polish to me. I find them deeply reassuring.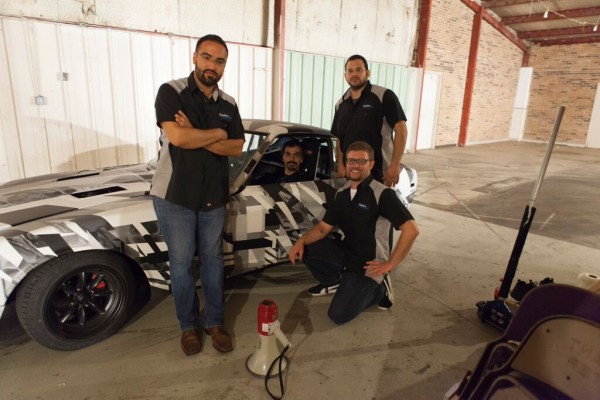 Like the painting itself, they reach back toward an older age of American muscle and the mythological heroism and machismo of the post-Ab-Ex era/proto-Pop era, including Old Man Larry Rivers himself. Moreno perhaps isn't ready to let go of those things that we know might be slipping away, like the guzzling but venerable V8 engine that he'd had howl for us, or the warehouse we all stood in with its history of light industry and its ragged surrounding streets. How much longer before it turns into another set of fairy-lit restaurants with scampering valets?
But before the holy smoke from the rear tires had had time to gather in the ceilings' vaults, the real God stood up and gave us a serious blast from the firmament and emptied a whole cloud, hammering and thrashing on the tin roof like tomorrow may have already arrived, so that those that hadn't already left could not leave. Framed by the big open front doors of the shed we could see the massive squalling typhoon blowing past. And it gave a great moment to reflect upon just how many people, many of whom knew each other, or of each other, were now connected but trapped inside this giant humid sweaty warehouse, like in Buñuel's 'The Exterminating Angel.'
When the rain finally abated, we stepped into the street which had now become, somewhat biblically, a river. We made our way downstream to my wife's non-razzle-dazzled Snow White Mobile: the Scion XD, with its polite exhaust pipe, fresh inspection sticker and skinny tires. In true Dallas fashion, someone offered us a ride to our car in their SUV—we were barley 100 yards away—so near, yet so far. But we declined the ferry and paddled back on foot, past other warehouses and the chain link fences where the little dog had now taken cover somewhere unseen.
And I thought: That was an event! It was great to be there: I'm glad Moreno did it, I'm glad Pablo drove the car, I'm glad he knows how to do all that car stuff, I'm glad that everyone turned up, I'm glad that it rained like Noah would have hoped for. I'm glad I was there.
Photography: Kevin Todora. Video: Christina Rees. 
This event took place May 23 at 2900 Bataan St, Dallas, at 8:30 p.m.