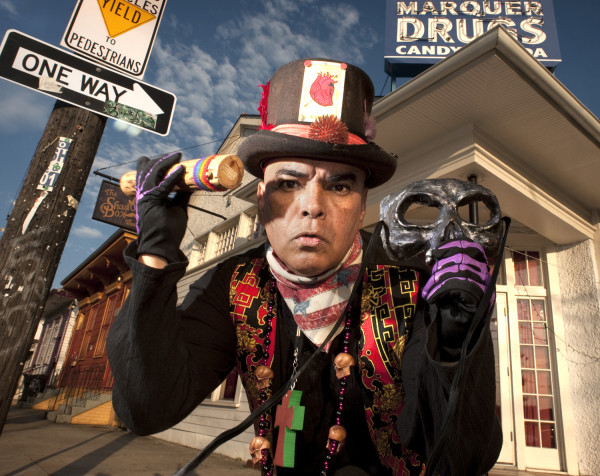 San Antonio's Guadalupe Cultural Arts Center, in partnership with the National Performance Network, will present performance artist José Torres-Tama during a week-long residency in mid-June. The residency will include three days of performance art workshops with Guadalupe students, two evenings of performances, and an afternoon lecture on immigrant rights.
From the press photo (above) and the titles, it doesn't look like Torres-Tama plans on presenting the usual workshops, performances, and lecture. Here is the schedule:
June 15-17: Three performance art workshops
Guadalupe theater students will get the opportunity to work closely with Torres-Tama and learn about his process and technique as a performance artist.
June 19-20, 8pm, (tickets $10-12): "Aliens, Immigrants & Other Evildoers"
A sci-fi Latino noir one-man show that takes immigration head on by satirizing the status of immigrants as "extraterrestrials" and "exposes the hypocrisies of a system that vilifies the same people whose labor it exploits."
June 21, 2pm: Immigrant Rights Forum, headed by Torres-Tama's lecture "Art & Social Change: The Artist as Provocateur." During this "live art" event, Torres-Tama will transform the traditional lecture into a multimedia, hybrid social commentary on the Latino immigrant experience, the mythology of the American Dream, and issues on immigration reform through short film presentations, performance and visual art, new media and poetry.