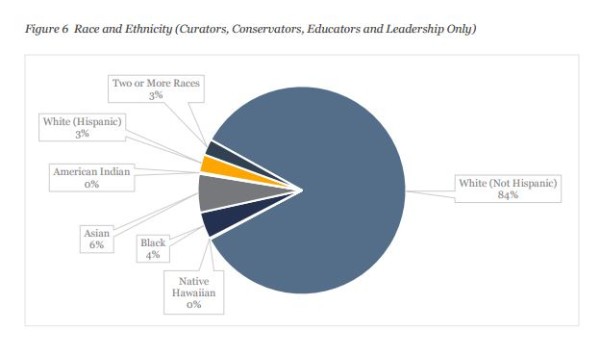 The Mellon Foundation has released the results of a new study assessing gender and ethnic diversity in museum staffs. Anyone who has ever worked in museums doesn't need a study to know that museum staffers, especially those in curatorial and directorial positions, are very white. But the report puts the official stamp of shame on the lack of diversity at museums. Except for culturally specific museums, not much has changed over the years, although leadership positions are finally evening out in terms of gender.
Here is a great quote from the study, plucked by ArtNet News:
"To thrive in the long term, it is crucial that museums bring the demographic profile of their staff into alignment with that of the communities they serve," said Elizabeth Merritt, director of AAM's Center for the Future of Museums. "This will require challenging a broad range of assumptions about how museums train, recruit and manage the staff responsible for collections, interpretation, education and leadership of our institutions. And it will require taking a hard, uncomfortable look at the conscious and unconscious influences that have shaped our institutional culture and created the current imbalance."
To read the results of the study, which was conducted with the assistance of the Association of Art Museum Directors (AAMD) and the American Alliance of Museums (AAM), go here.