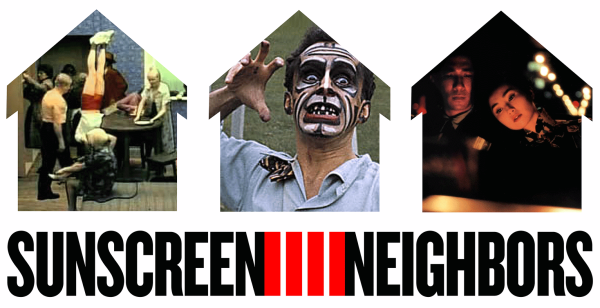 A good new movie and video series has been happening at the Power Station lately– the contemporary art space in Dallas housed in an historic Power & Light building in Expo Park– and takes place on its groovy rooftop on summer nights (and might extend into fall). The series is called Sunscreen, and the next installment is this Thursday, and doors open at 8 p.m.
The program is free, BYOB, and open to the public (this one a generally an art-and-film loving crowd).
Here's this Thursday's set list, via the Power Station:
9:00PM – Zbigniew Rybczyński's Tango
9:10PM – Norman McLaren's Neighbours
9:20PM – Wong Kar-wai's In the Mood for Love
Here's a program note:
SUNSCREEN has put together three films that address notions of shared space; the crowded room and the neighbor next door. One week from tomorrow, we'll visit an overpopulated loft, two men who will stop at nothing to win ownership of a prized flower, and new friends who must resist the temptation to repeat the same unfaithful habits of their own spouses.
Since seating is limited, it's not a bad idea to rsvp and include the number of people in your party: [email protected]
For more info on the Power Station, please go here.