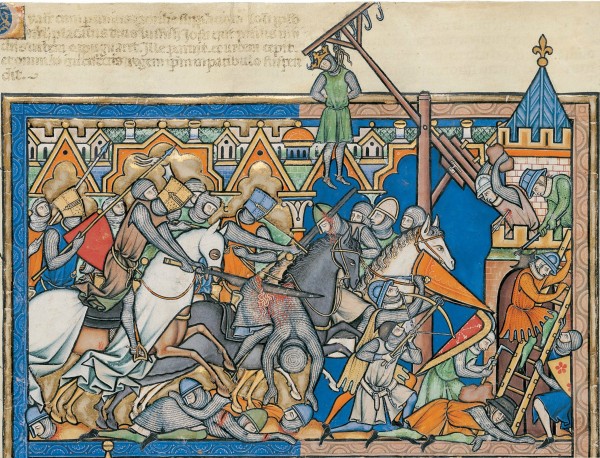 U.T.'s Blanton Museum in Austin just announced that 40 unbound pages from one of the most important illuminated manuscripts from the Middle Ages will be on view starting in December; these are startlingly complex and gorgeous 700+ year-old illustrations.
The exhibition, The Crusader Bible: A Gothic Masterpiece, has as its centerpiece the famous Crusader Bible, a French manuscript from around 1240 depicting the stories of the Old Testament through medieval/crusade imagery (it was, in other words, contemporary at the time). The illustrators are anonymous, but it would have been commissioned in Paris by King Louis IX, and has enjoyed tremendous good fortune in being passed down from responsible hand to responsible hand through centuries to reach our eyes today.
For further historical context, the exhibition will also include (via the Blanton), "medieval arms and armor from New York's Metropolitan Museum of Art," and "sixteenth-century Persian illustrations from the Metropolitan and the Ardashir-nama, a seventeenth-century Judeo-Persian manuscript of Old Testament stories from The Jewish Theological Seminary of America in New York." In other words, a fascinating and well-rounded exhibition.
The Bible will be on loan from the Morgan Library & Museum in New York until early April.  For more info, please go here.