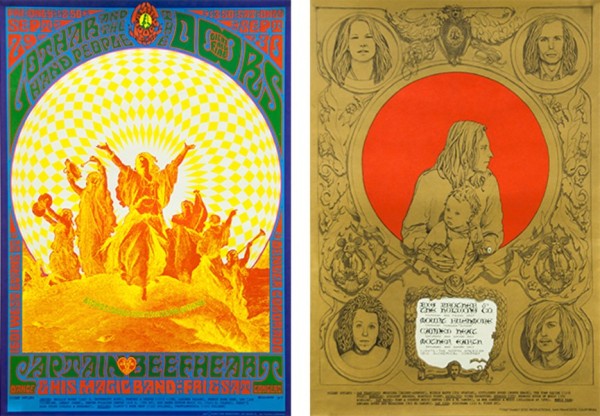 Hat tip to Robert Wilonsky of the DMN for this tidbit. A branch of Half Price Books in Dallas received an unexpected windfall of notable (and near-mint) vintage concert posters — illustrated by some of the greats of the psychedelic era — that the company will, in an unusual move, auction off online on Monday, August 31.
Apart from Bill Graham and his Fillmore, concert promoter Chet Helms was the other kingpin of the '60s San Franciso rock scene, with his promotion company Family Dog organizing shows mainly at the Avalon. The 69 numbered posters up for auction are Family Dog joints and should be highly collectable. Baroque illustrative posters promoting shows by the likes of The Doors, Grateful Dead, Jefferson Airplane, and Janis Joplin (with BB&tHC) are among the collection, and reserve prices are refreshingly low for this sort of thing (some starting at $100). Via the Half Price Blog, "Several of the most prominent innovative illustrators of the time and place are represented, including Rick Griffin, Stanley Mouse, Alton Kelley, and Victor Moscoso."
Half Price will put the posters on display in its Northwest Highway (Dallas) location starting at 5:30 this Friday night. The online-only auction, open to anyone with an internet connection, begins Monday morning. For more info go here and here, and for the online catalog go here.