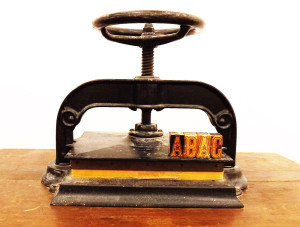 It seems quite appropriate that Austin, home of UT's Harry Ransom Center and academics and book lovers galore, would have its own Book Arts Center, modeled on similar ones in Minneapolis, San Francisco, and New York. Austin Book Arts Center will be located in studio #114 in the Flatbed Press building and, according to its board of directors, "will offer classes in bookbinding, letterpress printing, book repair, papermaking, book history and design, and various other arts of the book. ABAC will also make its studio and equipment available for the creation of books."
The two experienced people at the helm are Mary Baughman, who's worked at the Ransom Center for nearly four decades and is "one of the originators of the Book Arts Fair held for 20+ years at Laguna Gloria Art Museum," and Amanda Stevenson, from the Center for Book Arts in New York City and the Printing Museum in Houston.
ABAC's inaugural open house takes place Saturday, September 12. "Attendees may register to win door prizes, letterpress print a bookmark, and learn about the fall schedule of classes. Admission is free."
For more info, please go here and here.