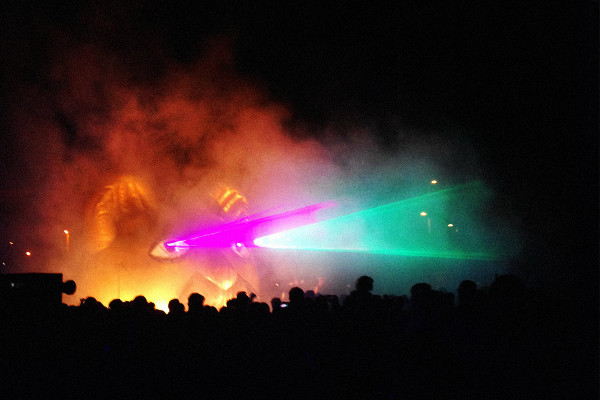 Okay. We'll bite. (If Jonathan Jones of The Guardian can write a think piece about it, we can write a small news item about it.)
A giant inflatable cat that shoots projected images of artwork out of its eyes and into the night sky (or onto buildings and people?) is heading to Texas in October, all the way from YUR-OP. It is very 2013. Why is this happening? It's the… brainchild of a Barcelona-based design duo who call themselves Hungry Castle. They claim to be inventors of Cool Shit. Here's a Wired article about them and their other shenanigans. This seems to be EDM stuff? No?
Thus claims Hungry Castle about the Texas leg of Laser Cat:
Yes! this giant sculpture will project Texan's personal art on buildings from it's laser beam eyes. 
I'd like to invite you to opening night and ask Texans to participate by submitting to this public Art Exhibition meets impromptu Dance Party!
Here is
the annoying website
where you will presumably find the tour dates and ways to enter. We know it shows up in El Paso first, on October 9 at the 
CTB Festival
. Here is a
video you can watch
about it, if you'd like. Join us back here in 2015 when you're done.