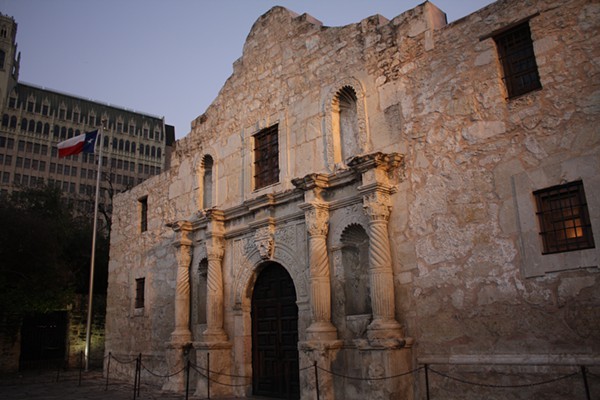 Only a couple of months after the Alamo was designated a UNESCO U.S. World Heritage site, deeming it of "outstanding cultural or natural importance to the common heritage of humanity," a 22-year-old Laredo man allegedly used his car keys to carve his name into the limestone walls of the Alamo's Monks' Burial Room.
The San Antonio Express-News reports that Julio Perez was arrested after a tour guide spotted him scratching his first name into the 250-year-old interior limestone wall of the state shrine. The guide contacted an Alamo Ranger who handcuffed the vandal as he tried to flee the building with his companion. Perez was charged with criminal mischief and placed in jail on a $20,000 bond, San Antonio police officials said. While the carving was only 1" x 3", preservation experts are assessing the damage and planning repairs, which could cost up to $250,000.
In 2012, a 21-year-old man from El Paso was arrested after urinating at the base of the church's facade. He was sentenced by a judge to 18 months in a state jail and ordered to pay $4,000 in restitution.
Since recent studies show that men mature at a shockingly slower rate than women, perhaps Texan males in their early twenties should not be allowed into the Alamo without proper supervision.
(Photo: Wikimedia Commons)