San Antonio Museum of Art (SAMA) opened the much-talked-about exhibition 28 Chinese on September 5, 2015. On loan from the Rubell Family Collection (RFC) in Miami, this is the largest exhibition of contemporary Chinese art to be shown in Texas since RED HOT at the MFAH in 2007 (which featured the Chaney Family Collection, from Houston).
28 Chinese is an ambitious installation, occupying six galleries of SAMA. This is the first project spearheaded by the museum's Brown Foundation Curator of Modern and Contemporary Art, Anna Stothart, who started at SAMA in February.
For many of these artists (actually 29 rather than 28), it's the first time for their work to be shown in Texas. The RFC is one of the largest privately-held collections of contemporary art in the world. This exhibition is the culmination of the family's six research trips and more than 100 studio visits to China between 2001 and 2012. Works on display include paintings, photographs, sculpture, installations and new media, including video installations of varying size.
If planning a trip to San Antonio to take in this spectacle, it would be wise to schedule the visit with enough time to break the viewing into manageable bites. SAMA provides a map to guide the way and the catalogue produced by RFC when the exhibition originally premiered in Miami in 2013 is comprehensive. The show is up through January 3, 2016.
Text by Tami Kegley; photography by Page Graham.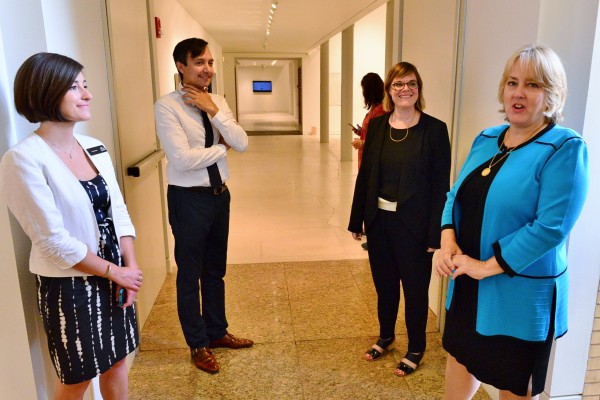 From left to right: Lana Meador, Curatorial Assistant for Modern and Contemporary Art, SAMA; Juan Roselione-Valadez, Director, Rubell Family Collection, Miami; Anna Stothart, Brown Foundation Curator of Modern and Contemporary Art, SAMA; Katie Luber, Ph.D., Kelso Director of the San Antonio Museum of Art.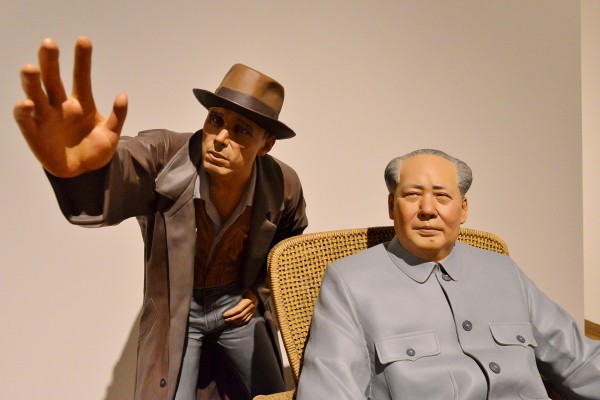 Li Zhanyang, Rent Rent Collection Yard – History Observed – Joseph Beuys & Mao Zedong, 2007. Part of a larger sculptural installation created between 2006 and 2008. For the artist the intent is "capturing the clash between contemporary cultures started in the conversation between these two philosophers."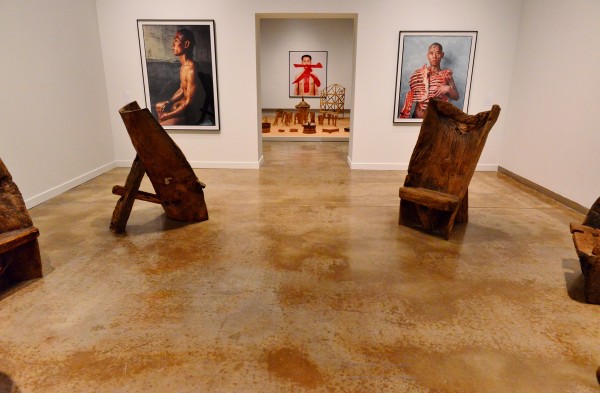 From foreground to background: works by He Xiangyu, Zhang Huan, and Qiu Zhijie in the Cowden Gallery, San Antonio Museum of Art, September 2015.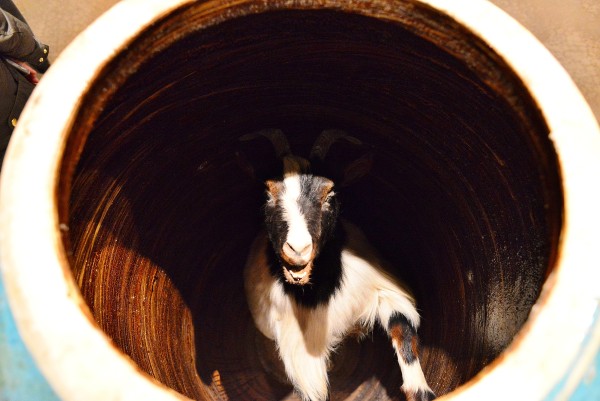 Huang Yong Ping, Well (detail), 2007. A series of deceptively classical ceramic jars with the surprise of taxidermy inside including a goat, a snake, and bats.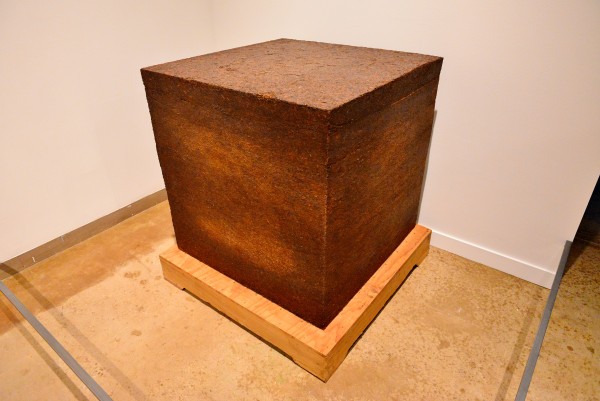 Ai Weiwei, Ton of Tea, 2005. Traditionally packed into small one ounce cubes for ease of transport, the famous Pu'er tea leaves from Yunnan are literally packed into a one ton cube, creating a commentary on the commercial aspect of minimalist art in contemporary China.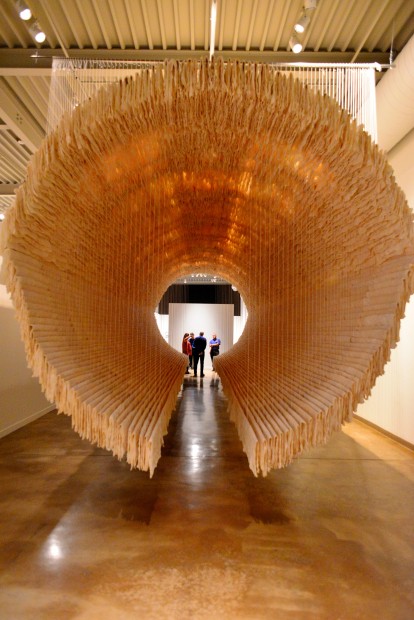 Zhu Jinshi, Boat, 2012. As the signature installation of the show, this floating cloud of a sculpture is constructed of bamboo rods and fine calligraphy paper crumpled by hand and suspended by cotton string. It's 50 feet long and is built on site for each installation.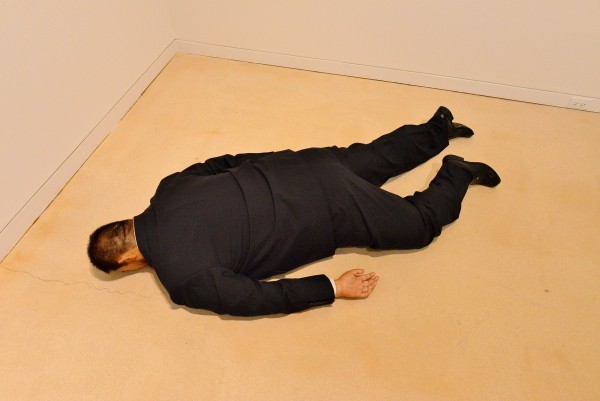 He Xiangyu, The Death of Marat, 2001. The sculpture is a portrait of Ai Weiwei, but references the assassinated French Revolutionary leader. This piece is extraordinarily life-like, and has alarmed more than a few museum visitors.
Xu Zhen, The principal motor of action in this view is self-interest, guided by rationality which translates structural and institutional conditions into payoffs and probabilities, and therefore incentives, 2012. Produced by Madein Company. One of the works from the "True Image" series, this elegant sculpture is a urine stain that stands more than seven feet tall. In the background: another work by Xu Zhen (l) and Li Shurui (r).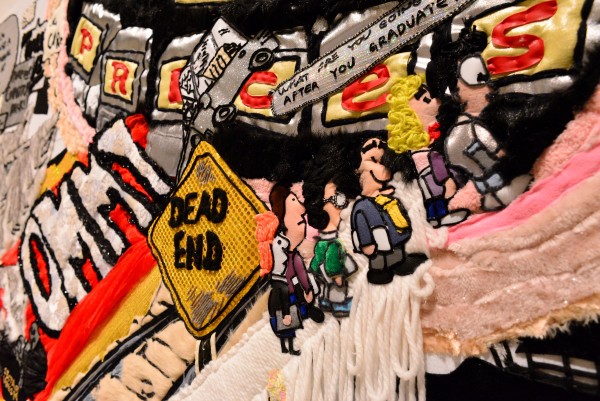 Xu Zhen, Spread B-051 (Detail), 2010. Produced by Madein Company. One of a series of works begun in 2009, this cloth collage comments on aspects of U.S. political and economic culture.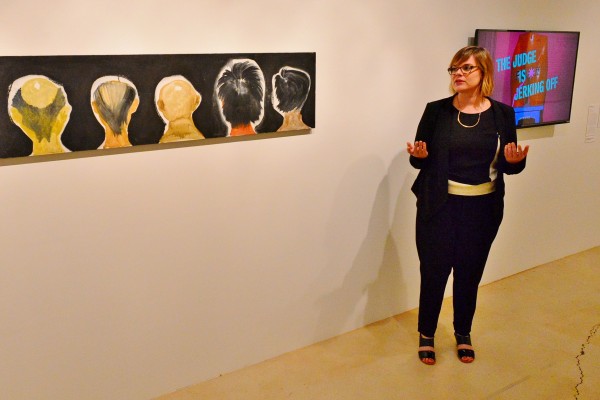 Zhang Enli, Hair 2, 2006 (l) and Chen Zhou, Spanking the Maid II, 2012 (r). SAMA Contemporary Art curator Anna Stothart led the tour of the installation. Here she's photo-bombed by the video, which randomly displays pithy commentary for a few frames at a time.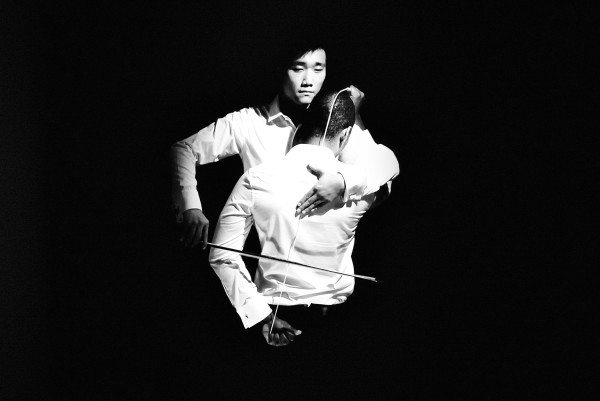 Yan Xing, Kill (the) TV-Set (Detail), 2012. This video installation is tucked into a secret chamber in the museum's Asian Collections on the second floor of the West Wing.
28 Chinese through January 3, 2016 at San Antonio Museum of Art.