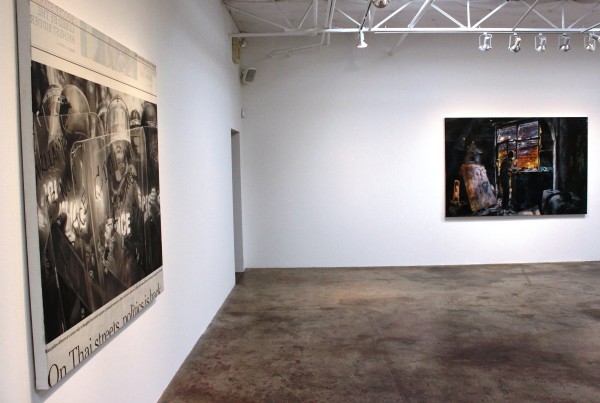 Xiaoze Xie's show at Talley Dunn Gallery in Dallas explores the assertion that journalism is the first draft of history in a beautifully painted way while it also examines just how rough a draft it is. He consistently includes calendar dates in the titles of his paintings of newspapers, which brings to mind the work of On Kawara. Kawara sometimes made boxes containing newspapers from the dates he painted. But Xie is not in the present like Kawara who always painted only the date his painting was made. Xie by contrast paints images of newspapers that are sometimes several years old. The text and images he reproduces are historical. During his recent gallery talk, he referred to printed word dailies as modern relics.
Three pictures in the show present newspaper images of conflict. August 26, 2013, I.H.T. (International Herald Tribune), 2014, depicts part of a newspaper page which contains a black and white (warm tone) news photo of Thai riot police with helmets and transparent plastic shields. They are anonymous behind their visors. The caption below the photo links the event to issues attached to protests in 2010. And so the duration of the story is embedded in the subject matter and in the painting's title and in its date of completion. ("The past is never dead. It's not even past," wrote William Faulkner.) Graffiti on the shields reads "CIVIL WAR IS COMING SOON" AND "ARLIAMENT IS NOT JUSTICE." Xie breaks the word by cropping the image where he does, or perhaps the paper's photo editor is responsible for unmaking "parliament." Below the photo a headline reads "On Thai streets politics is back." The bottoms of the letter forms are cut off, but they are still legible. Elsewhere on the canvas Xie has rendered passages that show the bleed through of text and photos from the other side of the newsprint. In August 26, 2013, for example, a rosy area at the bottom of the cops photo gradually reveals an eye and bits of a face under a cop's shield. At the top, faint headlines from the next page appear in mirrored script.
"SOCCER STARS
LURED BY THE
HIGHEST BIDDER"
And:
"ON THE RIVIERA
RENOVATING
ODERN GEM"
An uninterpretable color image lies between the headlines. Again bits of text are cropped out or obscured. Xie's careful attention to the evidence of the underlying page locates the front page story—image and text—within a specific cultural surround. News is like that.
Sometimes the next page's information can't be deciphered. August 28, 2013, I.H.T. (International Herald Tribune), 2014 shows a man with a Kalashnikov staring through an open window in a busted up room. Xie referred to the Syrian civil war during his gallery talk, but his painting offers no legible text to locate the scene. The painting depicts only the news photo and text from the back of the page. But this time the words appear mostly as texture—ridges of undecipherable word forms that show through the picture's shadows and grime like background radiation. I could make out a small female figure in one area, but that's about it. A palimpsest, as they say.
A painting of a front page obituary for Nelson Mandela also contains snatches of reverse headlines behind its portrait of the great man: "Calam… …age in Italy." The syllable "-age" being the last of a word—courage, marriage, dotage, manage, coprophage—I don't know. The obscured phrase runs through Mandela's head. The story that a great man died, the record of his accomplishments, the appreciation of his life—all that and more is presented in a noisy and mostly irrelevant context. Other stories happened that day, too.
This accidental connection of ideas and contexts is a bit like a project by Christian Boltanski called Signal; Boltanski disassembled a German magazine from the time of the occupation of France to discover unintended associations of images inside. The magazine (Signal) was produced in several languages by the Wehrmacht in imitation of Life or Paris Match with staples binding its double pages at the folded spine. Only the center two pages were designed to be seen together. By taking it apart, Boltanski presented pairs of images not meant to be associated by the propogandists who designed the magazine—a smiling beach beauty and a portrait of Erwin Rommel, for example.
Two of Xie's paintings from 2011 and 2010 depict stacks of Chinese newspapers on the shelves of a Guangzhou library instead of enlargements of single pages. In April-December 2008, G.Z.R.B. (Guangzhou Ri Bao), the folded edges of seven newspapers are enlarged to over seven feet in height. Snatches of gray-blue photo illustrations and Mandarin text appear against a cadmium yellow deep underpainting. Two other paintings from this year present cool gray monochrome renderings of stacked newspapers on library shelves, but seen from the side so that only the folded sheets are visible. There is no evident text, and no image either.
Xie's great skill as a painter is undeniable throughout. He studied architecture in China before earning a master's degree in painting from the Central Academy of Arts and Design in Beijing. After his education in China, Xie earned an MFA from the University of North Texas, where he studied with Vernon Fisher. He is presently a professor at Stanford. He maintains studios in Palo Alto and Beijing.
I suppose the training one receives in a traditional Chinese academy demands a high degree of skill—Socialist Realism (or whatever it has become in this century). Like the astonishing realism of Gerhard Richter (also trained in Socialist Realism as a young student), Xie's paintings attest to a sure hand and an eye that knows how a smear of gray will coalesce with neighboring marks to define a cop's fist or the shadow at the base of a big gun. Richter's enigmatic paintings of news photos of the Baader-Meinhof suicides and their stark witnessing of reports of historical events are antecedents to Xie's work.
Xiaoze Xie's show at Talley Dunn Gallery runs through Dec. 19.