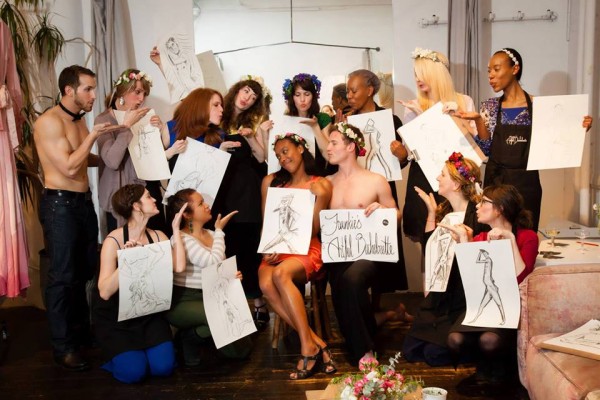 The Artful Bachelorette started a few years ago in New York and its "Drinks, Drawing and a Nude Model" twist on the bachelorette party became a hit. It was written up in the Fashion & Style section of the New York Times, the Huffington Post, and Time Out New York called the idea "somewhere between high tea and a strip club." All Yelp reviews give it five stars and gushing descriptions of the experience (some with unintended double entendres):
The model was poised and very enjoyable to draw and watch!
The owner and server are very attentive to your needs.
From initial contact to the actual event, communication and flexibility were stellar.
The topless waiter serving drinks and sharpening our pencils on a whim was a great touch.
We all laughed until it hurt! You almost forget there's a naked guy in the room.
It's classy, fun, creative, and just a teeny bit naughty.
The sessions are two hours and cost $89 a guest (the bride is free), which includes champagne, snacks, a female drawing teacher, a topless waiter, a nude model and a group photo shoot. Rules prohibit guests from touching the model and photographing him while he's naked.
The Artful Bachelorette has taken its parties on the road, opened a location in L.A., and now has locations in Austin and Dallas. We'll find out if there are enough Texans who will support this new venture: champagne-drinking ladies (or gentlemen—they've done gay parties, too) who giggle at the sight of a naked man, but want to feel classy about it.