The residency program at the Houston Center for Contemporary Craft has been a part of the institution since its founding in 2001. It's the only residency in Texas for craft artists, and is one of the few flexible residencies nationally, in that it's available for 3, 6, 9 or 12-month increments. Residents receive a studio, a monthly stipend of $500 and a quarterly $300 allowance. Seven former and current residents have a small exhibition of their works on view through August 27, 2016.
Susan Budge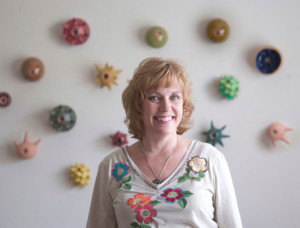 Susan Budge's grandfather was a painter. When I ask her about her origins as an artist, she speaks of her deep admiration for the arts from a young age, and her desire to emulate the work that her grandfather did. Knowing that she did not share his skill as a painter, Budge turned her attention towards clay, the medium that has defined her practice throughout her multi-decade career.
The artist's eyes light up as she describes her first experience working with clay, forging a set of bowls and spoons in the pond behind her family's house in East Texas. The thrill that stemmed from this encounter led her to pursue multiple degrees in ceramics, first at Texas Tech University where she abandoned a nearly complete business degree to earn her BFA, and later an MFA, also in ceramics, at the University of Houston at Clear Lake. During her education, she held multiple jobs that enabled her to sustain her practice, including a stint as a flight attendant on a small commercial airline. She paints a somewhat romantic portrait of herself as a young, ambitious flight attendant, working red-eye flights, typing assignments for her Master's degree on a portable typewriter in the galley while passengers slept.
Budge's work has evolved over the course of her 33-year career, fluctuating between abstraction and more figurative, narrative series. Her present work is playful and alluring. When I ask her how functionality plays into her current work she laughs and says "hardly at all." In Budge's studio is a piece which mimics the shape of a large vase, with its long neck sealed off. A large, free standing sculptures sits against the wall, its surface punctuated by a number of holes. Viewed through one of these is a smaller replica of the same work sitting inside. Budge's works are jovial, uncanny, and charming.
Younha Jung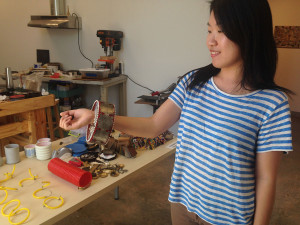 Younha Jung's studio is filled with the kinds of industrial materials one might expect at a construction site. Coiled air hoses sit alongside scraps of metal and a large cluster of fabric samples that are strung together with a metal chain. When I ask Jung about process, she emphasizes the central importance for her of collecting. The objects that fill her studio originate from various sites around Houston; Jung is in the habit of plucking material off the street when it looks particularly promising, and even makes pilgrimages to nearby construction areas in search of source material for her jewelry.
Jung is a metalsmith and jeweler who holds a BFA and MFA from Silla University in Korea, and a second MFA from Kent State University, in Ohio. Always centering on ideas of duality and difference, Jung's work underwent a number of transformations before turning to its current preoccupation with found objects; the practice of integrating industrial material into her jewelry began during her tenure at Kent State, when the University's art department was under construction.
The artist's jewelry is highly architectural. Her current works are displayed on the back wall of her studio, hung against the blueprints of construction plans for buildings from which their materials originate. These pieces, mostly necklaces, exist both as fully functional pieces of jewelry as well as standalone sculptures. The emotional transformation of objects that occurs when integrated into her artwork is a fascination of Jung's, and the patina her jewelry accrues as it lives with its wearer adds richness to this history of material.
Wen-Dan Lin
Wen-Dan Lin's background in information technology is evident in his intricate, analytical ceramic works. Lin, who moved to the United States from Korea, describes a long series of geographic moves before arriving in Arizona, where he took his first course in ceramics.
"I've moved around a lot," Lin explains, "so I was immediately drawn to clay for the sense of control that it allowed." While he simultaneously enrolled in courses in painting and drawing, Lin remained wedded to ceramics, and eventually gained multiple degrees in this media, first from the community college in Arizona which allowed his foray into clay, later a BFA from the Kansas City Arts Institute, and finally an MFA in ceramics from Arizona State University.
In his current practice, Lin draws heavily upon a sustained interest in technology and manufacturing. "I've always had the desire to subdue chaos through structure," Lin writes, explaining the ways that his work draws inspiration both from nature and industrial design. His curving sculptures, layered with unexpected combinations of elegant white porcelain and rough clay, are at once organic and systematic.
The works he most frequently produces are sculptures he calls clayscapes: tactile, curvilinear works which resemble abstracted pieces of mechanical material. While these clayscapes remain a cornerstone of his practice, Lin's current fascination is in building large models of fictional vehicles. Lin walks me through the involved process that results in these elaborate works; he begins by carving models out of cardboard with an X-acto knife, and subsequently reconstructing these mock-ups with clay. Upon completing each sculpture, Lin writes a fictional account of its history and function, weaving a mythology of sorts that becomes central to the final product. "It's sort of child-like," he laughs, "a bit like building with Legos."
Julie Gabriel
Julia Gabriel's design practice has its foundation in geometry and line. The pattern for each of her handbags follows a precise, mathematic formula, adhering to either the Fibonacci sequence or golden ratio.
Gabriel has been involved with the arts since high school, when she studied as a dancer at the High School for Preforming and Visual Arts in Houston. When I ask her where her interest in formal geometry stems from, she points to her background in performance. The "dancer's line", the outline of his or her complete body, is critical to maintaining balance and posture while performing steps or poses; striving for a "good line" is essential to the success of the dancer. Similarly, for Gabriel, calculated line constitutes the backbone of each of her pieces.
Gabriel taught herself to sew as an adolescent, and upon graduating from HSPVA elected to leave dance to pursue a sustained interest in fiber arts, first at Pratt, and later at Virginia Common Wealth University, where she earned in BFA in craft and material design. The first several years of her education at VCU were spent in the glass studio. Yet she could never quite abandon her affinity for sewing; Gabriel describes creating large glass sculptures with apertures on their surface, through which she wove patters in yarn and string. In her final year at VCU, Gabriel began to focus her attention fully on sewing in an independent study, where she initiated her current work as a textile designer.
Given the architectural quality of her handbags, I am not surprised to hear the artist describe her fascination with abandoned buildings. It was this interest, wedded with her love of sewing, that resulted in her first series of backpacks, which recreated the architecture of abandoned buildings in Richmond, Virginia. Upon returning to Houston, Gabriel continued to create handbags in the style of abandoned buildings around the city, and her elegant work, marked by sleek line and defined edges, evinces her preoccupation with architecture and geometry.
Rene Lee Henry
Themes of beauty and decay constitute the basis of Rene Lee Henry's jewelry designs. Having worked previously as both a graphic designer and a painter, Henry recently turned to metal, a medium for which she felt an immediate emotional connection. "When I began to work with metals, I fell in love. I was thrilled by the precise level of detail metal allowed me."
When it comes to metal, Henry does not discriminate, executing works in steel, aluminum, copper, and more. Her elaborate works of jewelry use a formal language to communicate her interest in organic form and material decay. Many of her pieces walk a narrow line between the functional and the purely sculptural. An enormous, yet incredibly fragile brooch, for example, hanging in the corner of her studio, is probably not wearable. Yet it communicates through the vocabulary of jewelry, an area of design to which Henry has remained connected from a young age: "As a woman, I loved dressing up, I loved the act of using jewelry as a form of ornamentation." Just as jewelry served as means for Henry to express her unique style and personality, her art jewelry is the means to communicate her intellectual interests.
Her current jewelry works are based upon her fascination with modern day ruins and the "relics" left behind. The urban geography of her surroundings in Houston provides an endless well for investigating themes of decay and renewal, and her metals an ideal medium. When exposed to adonization or oxidation, the surfaces of her works reflect the shifting surface of an urban environment as it undergoes continual, rapid cycles of renewal and decay.