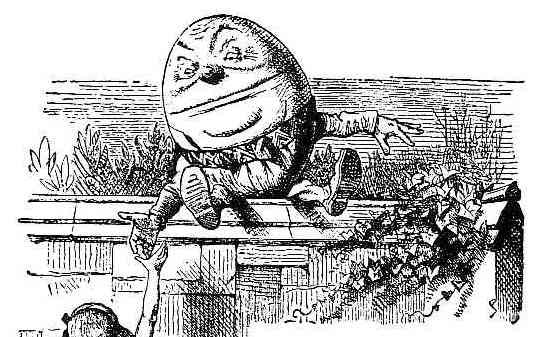 (Richard Patterson, an English artist living in Dallas, wrote this the day after the Brexit vote count.)
  "I don't know what you mean by 'glory,' " Alice said.
    Humpty Dumpty smiled contemptuously. "Of course you don't—till I tell you. I meant 'there's a nice knock-down argument for you!' "
    "But 'glory' doesn't mean 'a nice knock-down argument'," Alice objected.
    "When I use a word," Humpty Dumpty said, in rather a scornful tone, "it means just what I choose it to mean—neither more nor less."
    "The question is," said Alice, "whether you can make words mean so many different things."
    "The question is," said Humpty Dumpty, "which is to be master—that's all."
– from Lewis Carroll's 'Through the Looking Glass' (1872) 
Tony Blair picked up on my point about the absurd demonizing of politicians, economists, and journalists as "experts," as if ordinary jobsworth cockney wankers down the pub somehow always know best. You can look to America for a precedent, and it started with the service industries. It's a the customer is always right attitude; it's the give-everyone-an-unpalatable-confusion-burger-in-a-gimmicky-bar-with-a-craft-beer-list, because that's where the demographic seems to be taking us. Because the "customer is always right."
Respect for knowledge, skill, advice, a credible viewpoint—all of this is giving way to the idea that the tosser at the pub who's five lagers up apparently knows best. It's part of the America Fuck Yeah! syndrome, only it has led to an official unraveling in Britain (shockingly) before it might unravel here in the U.S.
What strikes me is that the British are essentially a polite (and at times violent), tolerant and ultimately cautious country, but who have never had a modern European-style bloody revolution. For various reasons, the British have never had to "rise up," although it's not been without civil unrest. It has excelled, mostly, in resolving complex social and economic issues politically. However, regrettably, one aspect of Britain that we all know—the whining, the complaining, the sardonic and ironic pub pundit, the armchair critic pub bore—all of these people who have traditionally blown off steam down the boozer, all of these people with passive political angst and high opinion do not usually coalesce into a meaningful political force. Until you give them a referendum.
The referendum gave equal voice to every individual who wanted to use their vote, and the politicians and media made their best effort to explain the gravity of the issues in serial debate long before the vote, but in so doing the nation unleashed an emotional outpouring that may not have always addressed the issue at hand. How many voters became power drunk with entitlement after feeling for too long unheard? How many voters conflated old-school grievances and relocated them in the wrong ballot? It was like using a "reset Safari" button by mistake and erasing your entire history when you just meant to lose a couple of emails.
I think people have become used to "having a say"—Tweeting, Facebooking—sounding off privately, etc., and there never being any consequences. So I believe that many of the people who voted for Leave probably did so thinking that actually nothing would be affected. They simply wanted to vent, to get it off their chest. They had not truly considered the consequences. They may have secretly wanted to remain but to have the perverse pleasure of being able to later say Well I voted against this whole thing—this isn't what I wanted. That would have given them something else to truly complain about. But to their own surprise, their votes carried the day, and now they will see it all nose dive, and as it does, they'll blame whoever else they can—whichever new "expert" is at the helm—for screwing it up for a second time. It's a spiral of retrogression. As things get worse (but there are fewer immigrants to blame) then you pin it on something and someone else.
This of course sounds entirely patronizing, as though I think that people tend to be stupid, ignorant, irrational and so on, and that they don't say what they mean, or mean what they say. But unfortunately it would appear that a huge swathe of Britain has just proven this to be the case. Already there is evidence of voters saying, "I didn't realize this would be the outcome; if I could vote again, I'd reverse my vote." Certainly different people voted to Leave for different reasons (it wasn't just one demographic), and many who voted to Leave really meant it, but you look at English football supporters drunk in pubs in Marseilles, and you have to know that there is a supreme disconnect at times between a sentimental view of what they think they want England to be—"victorious, glorious" and so on— and the grimly sardonic understanding that their team will probably lose, because they generally do. It is the fundamental default setting of an aspect of the British psyche: the dour entertainment potential in getting your hopes up in order that they can be dashed, in order that you can get legless and then smash up the port and get yourself banged up in jail overnight. It is a form of sadomasochism that so many in Britain practice as entertainment. It manifests as a catharsis that is politically ugly and has traditionally invoked jingoism and nationalism (albeit with a degree of wit).
The columnist Marina Hyde referred to the "suitably nostalgic, sub-Pearl & Dean [an old-fashioned advertising group that did the promos in British cinemas of yore] production values… [which] depicted a place of Spitfires and the battle of Britain and the Queen's coronation." Britain for decades has ironically (and unironically) traded on its own memories, proudly and fondly, but sadly too, knowing much of it is past, redundant, from another time. Some of it is kept around as a theatrical sentiment to be sung at soccer matches, like a form of music hall. Even Blair's "Cool Brittannia" in the '90s was an attempt to reignite and repackage at least some of the vestige of this cultural identity into modern Britain. The opening ceremony of the London Olympics probably did it better and more succinctly.
And suddenly, recently, it has become all too real, as if half of the population think that the Spitfires and Lancaster bombers are a still a way of life. As John Oliver said last weekend, the bar for entry to even be considered "English" seems to be a monocled badger named Reginald who lives inside a shepherd's pie.
And now it has played out massively in the political arena, as if the whole thing is one giant European Cup tournament, and the perception of the way to win is to just get rid of all the other teams—a bit like the way America invented American football for itself. America always wins at American football, because no one else can be bothered to play it.
So, with Boris Johnson's encouragement, some of the British population might have invoked the pub-bore everyman approach to politics as a conflation of the 'keep it local' and the global populist contemporary condition. The notion that somehow Britain's culture will now be more distinct (again) is something of a mirage, because now every tosser in the entire western world (and beyond) uses the same iPhone, drinks craft beer at a bad bar with shipping-pallet tables, seems to be slightly overweight (despite all the almond milk), and doesn't know much about world events despite staring at screens all the way home on the train while never looking out of their own carriage window. The culture of populism has become ubiquitous in the sense that most everyone has become equally deluded by the narcissism of the manner in which they process information.
There will surely come a point soon where the medical profession and politicians alike will conclude that we have become meaningless information junkies to the point where any processed information has become the equivalent of junk food. Too much information without creative application, or accountable action, becomes a form of unhealthy bingeing and meaningless, directionless indulgence. You'd hope that anyone seen staring at a screen, surfing the internet and social media, is surely educating themselves. But really the information intake may be so garbled, and so undirected or misdirected, that the digestive system of our brains and political consciences have given up the ghost and have made us intellectually obese, unhealthy, and stupid.
I think Britain is the first modern country to have become punch drunk on information and assumed that if all information is equally questionable, then no information can be truly accurate, and so therefore sense, common sense, sensibility—none of these count for anything any more other than a kind of post-pub gut reaction to things. The same kind of gut reaction that comes in from the pub drunk late at night and says, "Fuck it, I'm gonna bust up the kitchen and rip off some cupboard doors and throw a chair through the window," and then wakes up the next morning and has to phone a guy to come in and fix it all at great expense.