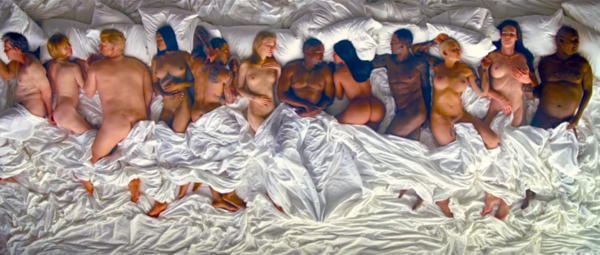 Kanye West made a big splash into the art world last week with his first gallery show. Hosted by Los Angeles-based gallery Blum & Poe, the single-work exhibition consisted of Famous, a hyperrealistic sculpture depicting twelve pop culture icons: George W. Bush, Donald J. Trump, Amber Rose, Rihanna, Anna Wintour, Taylor Swift, Bill Cosby, Chris Brown, Ray J, Caitlyn Jenner, and of course, Kim and Kanye.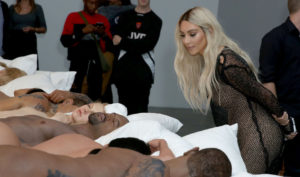 The silicone figures were made for one of West's music videos. Released in June, the video, Famous, has trappings of early video art: most of the shots feature grainy, shaky, badly lit footage of the sculpture. It's creepy—each figure is hand sculptured and designed to appear lifelike down to the tiniest freckle. All twelve bodies even have interior machinery that make their chests rise and fall as if they are in deep sleep.
Though this may have been West's gallery debut, it's not his first art rodeo. In 2015, he was awarded an honorary doctorate from the School of the Art Institute of Chicago. And earlier this year, he went on a twitter rant about art and being an artist:


So it seems Famous is Kanye's truth, and it could be yours too if you want to shell out $4 million for it.