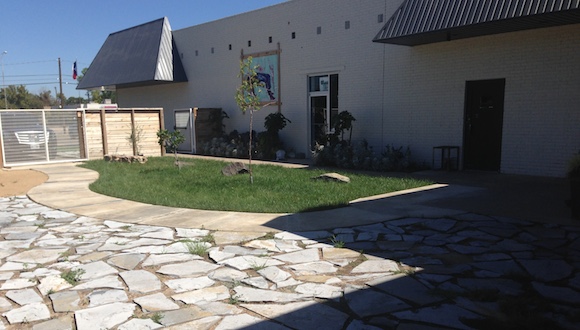 In the tradition of makerspaces like The Crucible in Oakland, CA, Lubbock has a new arts community space, ULabs Makerspace (the U stands in for "ubiquitous"). This is a boon for the Hub City, where students, professionals, and novices alike now have access to an inventive community and the tools and space to bring their creativity to fruition. (Note: Texas Tech University Library also has a makerspace, available to current students, faculty and staff).
The location of the building is hidden away behind MG Jewelry Designers on 50th street. The facilities include a conference/gallery space, jewelry fabrication room, a bio lab, and a workshop/computer room complete with a laser cutter, welder, 3D printer, lathe, plasma cutter, and mill. Leen Borno, the space's founder, developed the facilities due to a profound need she felt to offer sanctuary in the form of erudition.

When explaining the space, Borno proudly talks about her collaborators, one being botanist/artist Peter Keltz. I spoke to him (he was outside in the ULabs zen garden brushing up some landscaping) about his experience with Borno. He said ULabs incubated him, allowing him to show his work in exhibitions as well as hold a "pop-up" plant shop on the weekends. Other collaborations include national maker fairs with Barnes and Noble, as well as working with local middle and highschools.
So far, ULabs seems to be one of the best-kept secrets in Lubbock, offering services, space, and tools to people of all ages and art pedigrees. For now, they're open during select times and during the First Friday Art Trail, but Borno hopes to soon have the space available 24 hours a day. During the upcoming grand opening, Friday, September 23rd from 8 p.m. – midnight, ULabs will show the Hub City what's on offer: memberships (starting at $15), classes, and equipment rentals. Don't miss it!
This article originally appeared in slightly different form as "ULabs Makerspace" on The Bowerbird, an art blog in Lubbock, TX. Photos: Hannah Dean