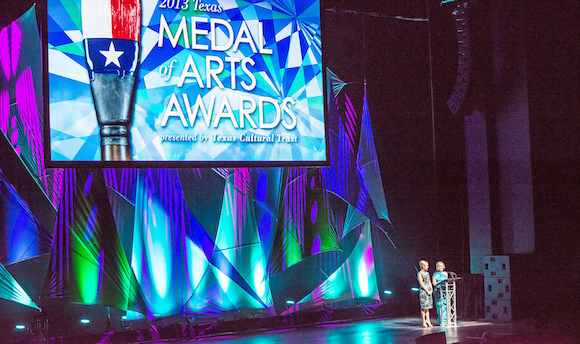 Today the Texas Cultural Trust announced its 2017 honorees for the biennial Texas Medal of Arts Awards. The award ceremonies will take place February 21-22 "for the first time ever at Texas Performing Arts at the University of Texas at Austin."
The announcement was made at a luncheon at the Tobin Center for the Performing Arts in San Antonio. This is the ninth biennial year for the awards. Via the Texas Cultural Trust: "The Texas Medal of Arts Awards is the Texas Cultural Trust's signature event and the state's most prestigious arts gala, honoring amazing Texans who have made powerful contributions to the arts here at home and around the world. This event celebrates the state's legendary artists, entertainers, and arts patrons with a series of events, including a Stars of Texas Brunch at the Governor's Mansion, a star-studded awards show with special musical performances, and a gala dinner."
These are the 2017 honorees:
Corporate Patron:  John Paul & Eloise DeJoria, Paul Mitchell/Patrón Tequila, Austin
Multimedia:  Kris Kristofferson, Brownsville
Television: Jaclyn Smith, Houston
Individual Arts Patron:  Lynn Wyatt, Houston
Dance:  Lauren Anderson, Houston
Music:  Yolanda Adams, Houston
Arts Education:  Dallas Black Dance Theatre, Dallas
Film: Janine Turner, Euless
Theatre:  Renée Elise Goldsberry, Houston
Foundation Patron:  The Tobin Endowment, San Antonio
Visual Art:  Leo Villareal, El Paso
Architecture:  Frank Welch, Dallas
Literary:  John Phillip Santos, San Antonio
Journalism:  Scott Pelley, San Antonio
Lifetime Achievement:  Kenny Rogers, Houston
So far the Trust has given 99 medals to 105 notable Texans. Past honorees include Jamie Foxx, Eva Longoria, ZZ Top, Willie Nelson, Dan Rather, Robert Rodriguez, Lake Flato Architects, the Nasher Foundation, Robert Rauschenberg, Clint Black and Lyle Lovett. For more info, go here.