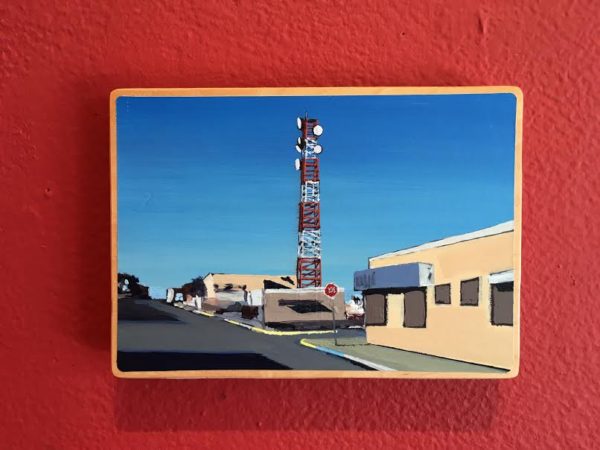 Lubbock-based artist Andrew Martin has found a way to lean in to our society's obsession with personalized viewing experiences. His exhibition, observer effect, on view at Redbud Gallery in Houston, is comprised of 43 tablet-sized landscape paintings. Many of the works depict lush fields or open plains that are interrupted by signs of humanity: roads, houses, stop signs, and, most importantly, communication towers. While the towers are at times looming over their surroundings, often they are relatively hidden; they are faint in the background and only reveal themselves as you begin to fully enjoy the natural landscape of the painting.
Through their size (7" x 5"), their installation (evenly-spaced across the gallery's three walls) and their unassuming subject matter, the paintings act like a slide show or a static video spanning views one might see on a drive across Texas. Each image is frozen—a screenshotted moment in time that might as well have been thrust in your face by that-one-friend-who-takes-photos-using-an-iPad-mini. Martin recreates these scenes in a way that hints at how we are now familiar with seeing them. His work tells us that we cannot escape our modern telecommunication highway—it is always lurking in the background.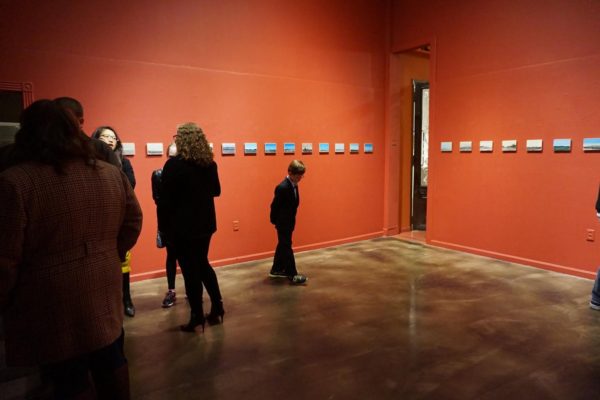 Through January 29 at Redbud Gallery, Houston.