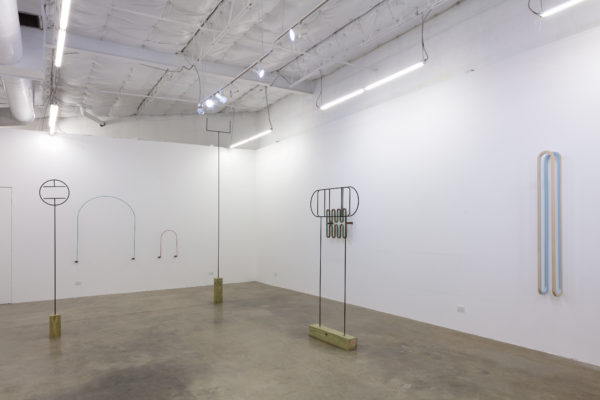 A totem is generally understood as an object to be revered (or representing something to be revered), which makes it an odd title for a show featuring the work of Ryan Goolsby, a Dallas-based artist who doesn't seem to take art too seriously. I don't mean that as an insult. The insularity of the art world is thanks in no small part to our frequent inability to have fun with what we do, which is why an artist like Goolsby should be embraced.
Totem, on view at Liliana Bloch Gallery in Dallas, features new work by Goolsby in wood and steel, and the first indication of Goolsby's rather playful approach to art-making greets visitors before they even enter the main gallery space. Goolsby works predominantly with wood, the leftovers of which he's used to craft tiny tables that support colorful hand-made pots with plants; these are for sale at the gallery. It's a miniature plant playground, and distinct from the more conceptually structured main gallery show.
But the main show is its own kind of playground, too, of larger sculptures, and although the work can be taken in at all once, it rewards a meandering journey through Goolsby's energetic tableau.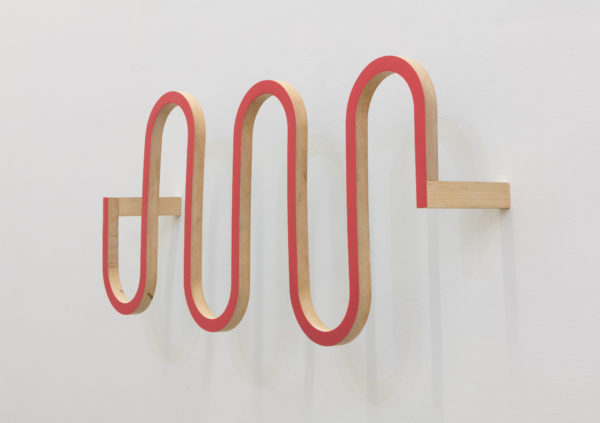 Goolsby's practice in recent years has involved a translation of various referents into cheeky and aesthetically pleasing sculptures. In a 2014 solo show at Bloch's gallery, Goolsby's sculptures were clean, minimalist representations of scientific data and systems. The last few months have seen Goolsby contemplating simpler, everyday objects—bike racks and hanging lights are examples—and transforming them into abstract sculptures.
It's fun to wander the gallery guessing what each of Goolsby's pared down pieces refer to (and the artist says they do refer to specific things); all of the pieces are untitled. The gangly steel works might represent sporting equipment; the two circular rectangles that lean against the wall could be even-more minimalist interpretations of the iPhone.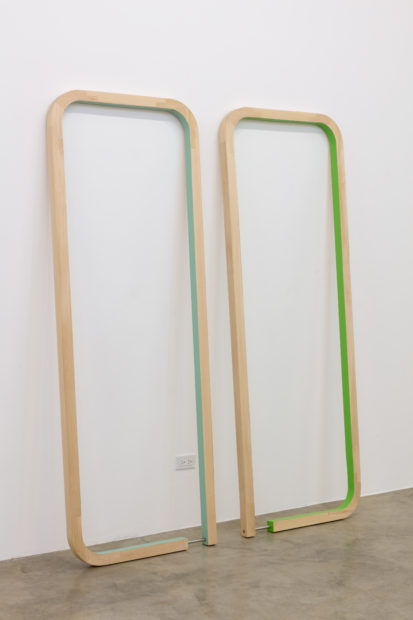 That sense of conceptual possibility is matched by the work itself—all except one of the pieces feature open spaces or apertures. The steel semi-ovals on the back wall, the wood swirls at the front, even the iPhone-esque rectangles communicate both physical and interpretative openness. Openness, but not incompleteness; although the kinetic energy of some of his work is achieved by 'stopping' pieces seemingly in motion, the hard edges and brilliant paint give the work a sense of authority and intention.
And despite the number of pieces in the small gallery's main room, the full installation creates plenty of empty space. Goolsby uses material economically, without losing a feeling of substance—of heft—and his judicious addition of rich color to his works enhance this effect. Goolsby's colorful, dense wood pieces line the sides of the gallery, leaving the sparser steel pieces to the center and back wall. It shows his keen awareness of the space and its potential.
There's no clear logic to most of it, just like there's no logic, necessarily, to what certain eyes are attracted to at certain times. Knowing that Goolsby's sculptures are abstract 'totems' for real-world objects isn't a prerequisite for taking pleasure in the work. Susan Sontag would have been proud. It urges us to parse our understanding of visual language: How much visual information is needed to convey meaning? How far do our shared visual vocabularies truly go?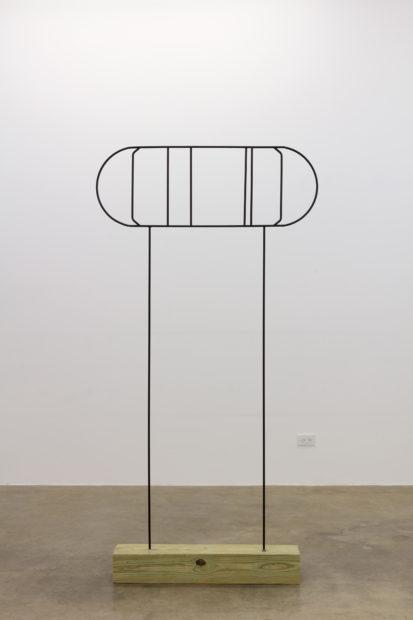 Goolsby presents an interesting semiotic critique that begins with an invitation to reconsider the things that normally surround us. And good art can and should prompt that reconsideration, to allow us to look at the things we take for granted with new eyes. Goolsby's approach—abstract but not too abstract—works on several levels and manages a sly sophistication (and in that sense evokes some other favorite Texas-based artists, like Brad Tucker and Sterling Allen). Nonetheless: Have fun with it, this work seems to say, but don't overthink it. Let it please your eye.    
The work is a refreshing reminder that even abstract art doesn't have to take itself too seriously to be relevant. The title of Goolsby's show may be ironic, but it's a valid critique of what a gallery space inherently does to the art it hosts, and Goolsby's ability to elevate but not overly venerate his subject matter—and create beautiful sculptural objects in the process—encourages an appreciation for the world based on nothing more than a return to simple aesthetic awareness.
Through Feb. 11 at Liliana Bloch Gallery in Dallas. Photography: Kevin Todora.