Garth Weiser's show at The Contemporary Austin made me angry. It could be partly my fault—I did come to the exhibition immediately after spending hours at the charming and clever Nina Katchadourian show at the Blanton—but at the same time, when I walked into the Contemporary's newly remodeled building, my spirits were high. I was also excited to see what a more traditional art show would look like in the newly refurbished Contemporary; many of its recent shows have been so adventurously all over the place that I wasn't sure how it would divvy up the space.
Garth Weiser: Paintings, 2008-2017, consists of 22 works by the New York-based artist; it's also his first monographic institutional survey. The problem with Weiser's large-scale abstract paintings, however, is that they're empty, cold, and dead on arrival. Taking on the heavy history of abstraction, with a dash of Bauhaus and Op art for good measure, Weiser creates thickly impastoed paintings that are all about what paint can do on a surface. As a conversation between artist and viewer, his version of paint/surface fetish is a non-starter. To get an overview of Weiser's oeuvre, you only need to see about four of his paintings. When visiting a ten-year retrospective, I want to see some progression, some growth in technique or subject matter in the work, but in this case, I feel that the exhibition provides little to no payoff. It's frustrating to walk through a show and feel like you're continuously looking at the same thing. You don't have to adapt your viewing style or engage differently with any of the 22 works because they're all oversize canvases that you can see coming a mile away. Of course, this is also a curatorial issue—the show's catalog includes some drawings and smaller-scale works by Weiser that, had they been included in the exhibition, could have broken up the monolithic monotony of the exhibition. Normally, after spending time with a show, any show, at least one or two pieces leave a lasting impression on me. But none of Weiser's paintings stuck with me.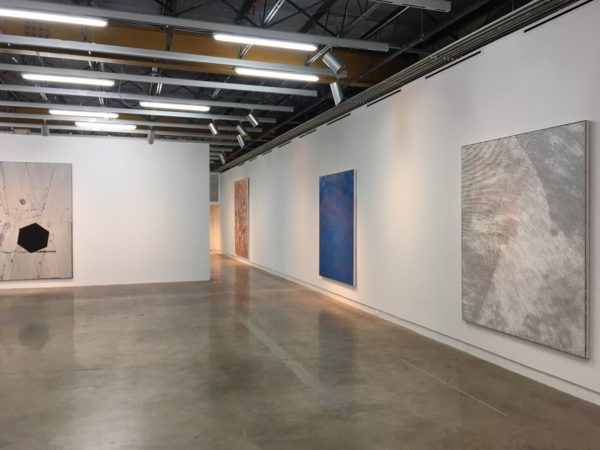 It's hard to talk about the paintings with any deeper context. Nearly everything I have read about Weiser's work addresses only the kind of paint he uses, his patterning techniques, and his place in the cannon of abstraction. This problem with the work is made clearer by the Contemporary's press release. Here's an excerpt:
Here the steadfastly geometric presence of a dark hexagon is activated by the optical stutter of cerulean blue stripes radiating from the painting's center in sharply delineated segments. Unexpectedly, up close the geometric edges are not crisp: furry tendrils of color sneak outside of their lines like iron filings seeking a magnetic pole.
The release reads like an eloquently detailed visual analysis written by an art history student striving to find something interesting in the work. It emphasizes that the paintings, because of their densely patterned surfaces, are hard to focus on or photograph—this is true. But the claim that the works are impressive because they "resist reproduction" and burden the viewer with the "necessity of seeing them up close and in person," is possibly the weakest argument for art I have ever read, since it can be applied to all art. The show of Sol LeWitt wall drawings at Rice Gallery? You had to see it in person. Steve Wolfe's books at Luhring Augustine? You had to see them in person. The problem is that while these other exhibitions have deeper layers of content, meaning, or progression or movement, Weiser's work's only trick is being resistant to reproduction.
I have to confess that Weiser's technique is perfect. His surfaces are goopy yet orderly, and hard not to like. It's a shame, then, that each painting in the exhibition is cordoned off by a gray line on the floor clearly reducing your ability to engage with it. I get that sometimes lenders and museums want this border—art is fragile—but it becomes too much when this restriction prevents you from studying the paintings' surfaces, which are their most interesting attribute.
The lines on the floor also epitomize the preciousness and market value of the artist's paintings. Weiser, who I would call an art star, is part of the young white male abstract painting clique that sells work for serious money. He has a pedigree: both of his parents are artists, his degrees are from Cooper Union and Columbia, and he's married to fellow artist Francesca DiMattio. From his Judd-like 17-acre studio compound in upstate New York, to his affinity for being photographed in paint-laden overalls, to his collection of records and the Porsche 911 parked inside his studio, everything about him screams 'hip, rugged individualist' (though he also has a place in Chelsea).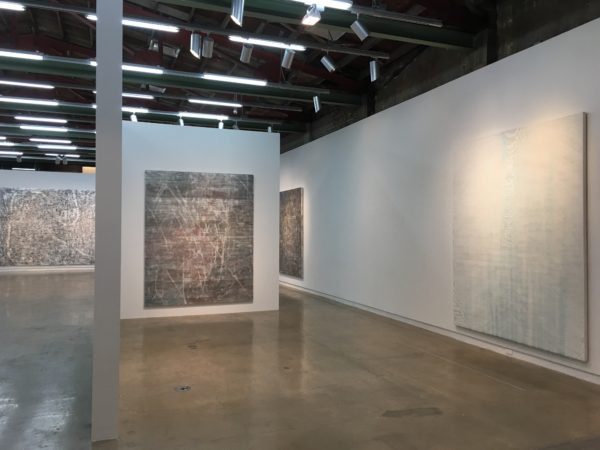 It doesn't hurt that Weiser's galleries cultivate his persona. He shows with Casey Kaplan, Altman Siegel, and Simon Lee. Not too shabby for a 37-year-old painter. Because of this, the works in the show at the Contemporary come from a litany of well-known public and private collections, some of which are in Texas: the Dallas Museum of Art, the Nancy A. Nasher and David J. Haemisegger Collection, and the Rachofsky Collection. Clearly, those in charge of these collections see something in Weiser that I don't, and I'm left wondering if what they see is not so much Weiser's paintings as his mystique.
The last nail in the coffin for me is the titles Weiser gives his paintings. Some of the earlier works in the show have absurdly long storybook names like Looks like someone left something on at the restaurant below our aptmt – our aptmt looking like its ok- woken up @ 5 by fire alarms and smoke but interesting moment of grabbing whats important just in case- which is (drumroll) wedding rings, bicycle, Amy's ghi, laptop, and My name is Warren I'm fifteen and desperate to hear from any females into Blancmange, Coronation Street, and Moterhead. My CB handle is Pigpen. The most recent works are just numbered: 8, 10, 13, 15, 17, 18, and Diptych #1 are all in the show. Here, Weiser inhabits two extremes—longwinded titles that confuse viewers and make them question what they aren't quite "getting" about the painting in front of them, and then in polar opposite, titles assigned like serial numbers. The latter comes with a sense of relief that Weiser perhaps realizes he's churning out items for market consumption, and it also doesn't hurt that this numbering system establishes how prolific he is.
Ultimately, Weiser creates impressive, expensive interior design. His paintings all share a similar aesthetic and color palette, so if the one you like isn't available, there'll definitely be another that works just as well for you. And if you're feeling jazzier and want a statement piece to go on the expansive wall above your couch, don't worry, because yes—some of them do come in copper leaf.
Through August 27 at The Contemporary Austin.