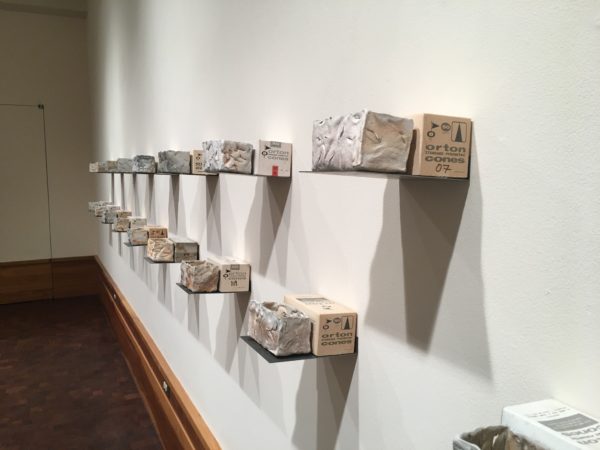 Brian Molanphy is one of three artists in the San Angelo Museum's current ceramic biennial invitational exhibition. The internationally exhibited artist has been teaching at SMU in Dallas since 2011, and he's one of only 80 Americans elected to  the International Academy of Ceramics.
Glasstire made a recent visit to the museum and enjoyed Molanphy's entire multi-part installation taking up a major gallery space in the museum, but we were especially taken with his installation of mud dauber nests. The following description of this work is on Molonphy's website:
'Nest Nest' is a mud dauber nest made of a mixture of lake clay & industrial clay that is nestled inside a porcelain box that is contained in an Orton cone box. The tiny insect nests designed to wrap around a body also bring to mind earthen architecture. After withstanding high-temperature wood-firing, the nests are placed inside a container inside another, like a reliquary.