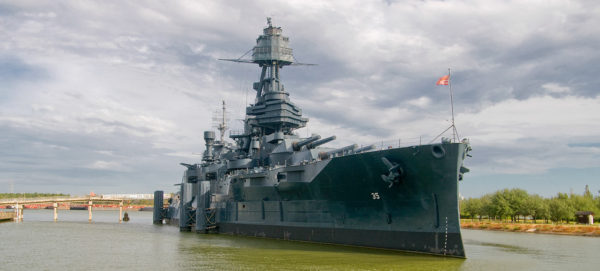 As of yesterday, June 11, 2017, Battleship Texas is closed indefinitely due to a leak in the ship's hull. This isn't the first time the battleship has taken on water; because it is not dry docked, it suffers routine maintenance issues. From September to October of 2013, the ship sprung four leaks while it was undergoing a $17.5 million rehabilitation project. According to the Houston Chronicle, major leaks began in the summer of 2012.
This most recent issue comes nearly half a year after the ship was temporarily closed and reopened because it "began taking on more water than it has in the past." This time around, officials said that the battleship will require nearly $18 million in repairs. A permanent fix to this problem would be dry docking this ship, but that would cost the Texas Department of Parks and Wildlife approximately $70 million.
Battleship Texas served in both world wars and was decommissioned in 1948. It was recently included in Glasstire's Top Five Things to See in Houston.