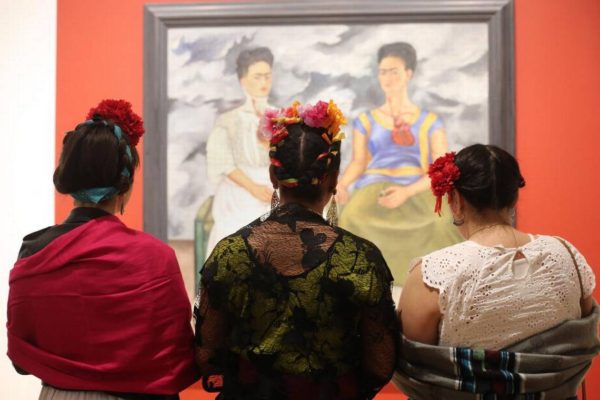 The Dallas Museum of Art and Dallas' Latino Center for Leadership Development have partnered on an interesting goal: to set the Guinness World Record for the biggest gathering of people dressed like Frida Kahlo. The event will take place on Thursday, July 6, on what would have been Frida Kahlo's 110th birthday, at the DMA from 6-9 p.m.
This Frida Fest is in conjunction with the DMA's acclaimed show México 1900–1950: Diego Rivera, Frida Kahlo, José Clemente Orozco, and the Avant-Garde. But in order to participate in the record-setting, you and your costume have to meet some criteria set by Guiness:
·         A unibrow drawn onto the face joining the eyebrows. This can be done with make-up or by sticking hair.
·         Artificial flowers worn in the hair, a minimum of three artificial flowers must be worn.
·         A red or pink shawl.
·         A flower-printed dress that extends to below the knees on all sides; the dress must not have any slits up the side.
Via the DMA: "Participants are encouraged to sign up for free online to stay up-to-date on all of the information pertaining to the record attempt: https://dma.ticketleap.com/fridafest/."
With our without a costume, you can attend Frida Fest, which is an evening of programming that includes dining and margaritas; a dance performance by the Dallas Black Dance Theatre; makeup artistry inspired by Kahlo's famous face; poetry, music, and interviews presented by Itzcuintli Films and Teatro Dallas, and more. 
Again, the festivities take place Thursday, July 6 at the Dallas Museum of Art from 6-9 pm. For a full list of programming and events, go here.