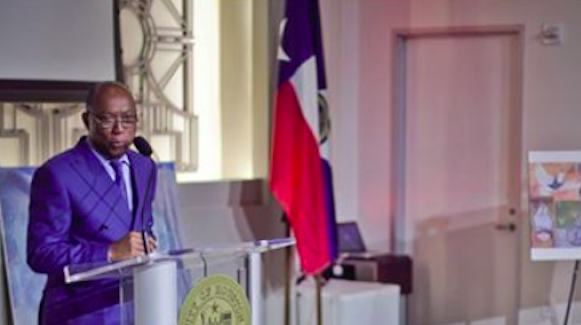 Mayor Sylvester Turner is calling for Houston's best ideas to endorse for the national Our Town grant program.
Here is the statement from the City's Cultural Affairs Office:
The National Endowment for the Arts' Our Town grant is interested in projects that bring arts and culture to impact community priorities such as public safety, health, blight and vacancy, environment, job creation, equity, local business development, civic participation, and/or community cohesion. Successful projects will improve the livability of communities, create opportunities for all and empower residents.
"I am very enthusiastic about having artists bring their best ideas to community projects and the NEA Our Town grant is a tremendous opportunity," said Mayor Turner. "There is so much great talent in Houston and by working together across sectors to solve problems and expand opportunity, we will keep our city moving forward."
The NEA limits the number of grant applicants per city and requires a letter of endorsement from the Mayor. To be considered for endorsement, applicants should submit their concepts with confirmed artists and partners no later than July 17 to [email protected]. Applicants should consult the Our Town grant program website, which includes guidance and resources including case studies for developing successful projects.
Here is the NEA's statement of "Don't worry—we're open!"
The NEA remains open and our FY 2017 operations remain unchanged. In May the Consolidated Appropriations Act, 2017, a bipartisan agreement to fund the government for the remainder of FY 2017 passed both the House of Representatives and the Senate and was signed by the President; it included funding for the NEA at $149.849 million. The agency continues to make FY 2017 grant awards and to honor all obligated grant funds made to date. The President's FY 2018 budget blueprint proposes the elimination of the National Endowment for the Arts, however, this budget request is a first step in a very long budget process. We continue to accept grant applications for FY 2018 at our usual deadlines and will continue to operate as usual until a new budget is enacted by Congress.