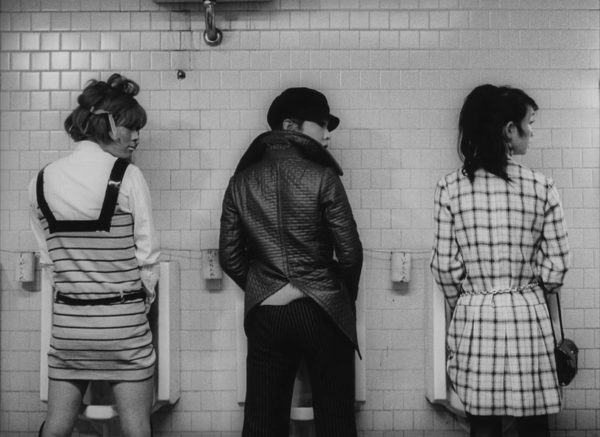 This Thursday at AFS Cinema, Austin Film Society begins its four-day run of a rarely screened (and newly restored!) work of Japanese queer experimentalism. The audacious debut feature film from director, video artist, and critic Toshio Matsumoto, Funeral Parade of Roses (Bara no Sōretsu) (1969) tends to be categorized as Japanese New Wave, though that label—or really, any label—is inadequate.
Filmed in black and white and told through a non-linear narrative in a mosaic of different filmic styles, this queer revamp of the Oedipus myth follows rebellious young drag queen Eddie into the strange world of sexual hedonism and political unrest that was Tokyo's Shinjuku district in the late '60s. With an unlikely mix of New Wave reflexivity, slapstick comedy, grindhouse shock, and avant-garde aesthetics, the film's sensibilities were a direct influence on Stanley Kubrick's A Clockwork Orange.
Sex, drugs, dancing, and diva drama eventually give way to the mounting inner demons of Eddie, played with surprising nuance by a non-professional, trans actor credited solely as Peter, who was plucked by the director right out of a Roppongi bar for the role. (Peter went on to a few more film roles after this—most notably, as the Fool in Akira Kurosawa's Ran). Yoshio Tsuchiya, who plays the cabaret owner and Eddie's older lover, is one of the few professionals in the cast, with previous roles in Kurosawa's The Seven Samurai and several of Toho Studio's Godzilla movies. The film also includes members of the influential, Fluxus-inspired Tokyo performance groups Zero Jigen and Genpei Akasegawa.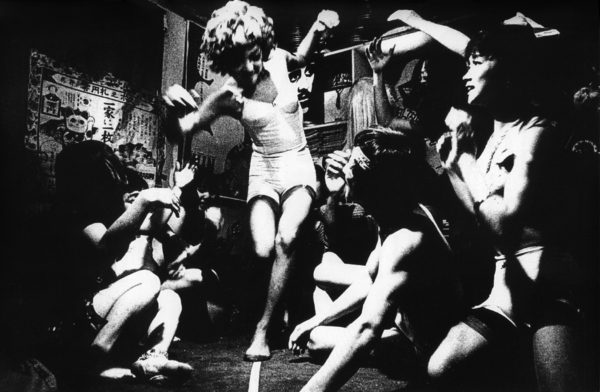 Matsumoto was afforded unheard-of freedoms by creating this film completely outside of the mainstream system. Supported by progressive, independent production and distribution company Art Theater Guild, Funeral was the first Japanese film to unabashedly represent homosexuality and gay culture. It was also the first to respond to the 1968 Shinjuku Anti-War Day riots that had occurred in the area mere months before shooting.


Matsumoto breaks linear narrative through splintered flashbacks and repetitions, manipulates time through speed changes and freeze frames, and weaves a dynamic meta-cinema tapestry with inserted bits of text, vérité footage, interviews with the cast, clapboards, solarized shots, and distorted TV news footage. The film's continual inversions and subversions (myth-flipping, gender-bending, style-hopping, time-warping) can be seen as aggressive and well-orchestrated acts of defiance against the conventions of both traditional cinema and a dominant social order. It's a bold effort in what Matsumoto referred to as his "sensorial pursuit of chaos"—the invention of new methods to reflect new, complex truths.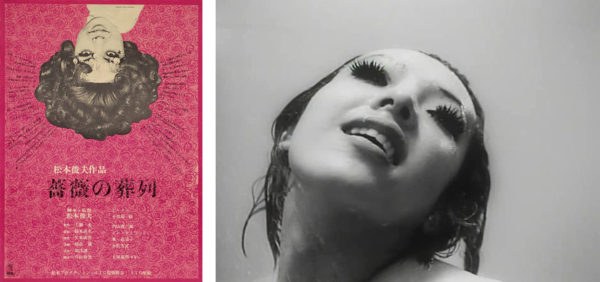 Funeral Parade of Roses is sometimes described as shocking, though I'm most shocked by how accessible this dense cinematic circus ends up being, and how seldom the film is seen and appreciated—especially in the U.S. At one point, a character in the movie quotes film critic Jonas Mekas: "All definitions of cinema have been erased. The doors are now open." These Austin screenings (AFS Cinema, Thursday-Sunday) provide a rare opportunity to walk through those doors and into a truly unique, funny, dark, wild, and warped world.
Funeral Parade Of Roses screens Thursday-Sunday, June 29 – July 2 at the AFS Cinema in Austin, TX
A version of this article was published in March of 2015.