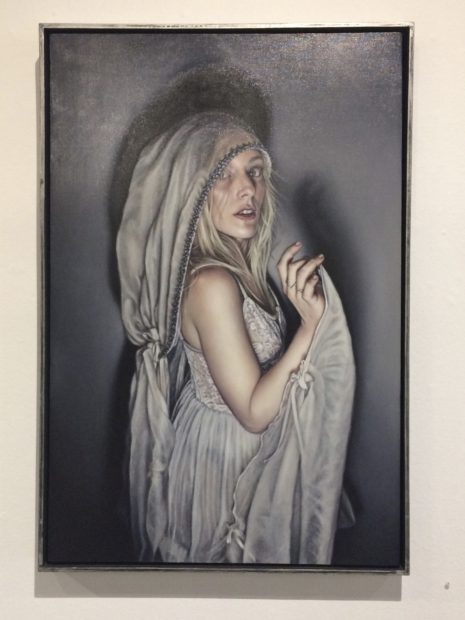 We've all heard the dirge announcing the death of painting playing on repeat for many decades—heck, for longer than I've been alive. I don't buy that painting is dying though, even if it sometimes seems maxed out in its capacities, because the majority of successful galleries are still doing a fierce trade in paintings, and artists are still exploring what painting might do.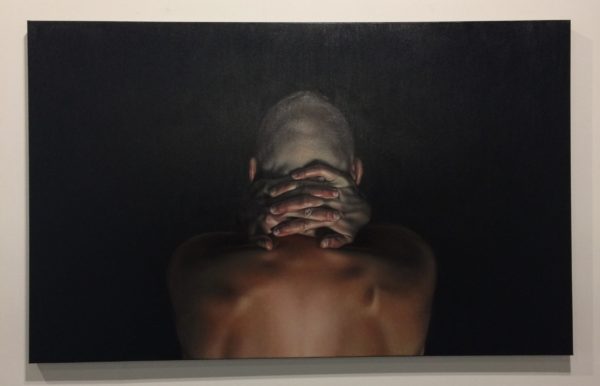 Women & Their Work in Austin hasn't had a painting show in two years, until now, but the space's return to the form has left me unsatisfied. Laura Lit's portraits for her show Where You End and I Begin place her subjects against inky black backgrounds, where she deftly handles the tonalities of skin in the cast of chiaroscuro, but the realism only seems to be skin deep. The high point of the show is a painting of a man with a shaved head, his back turned toward us, with hands clasped behind his head on his neck. We only see the landscape of his back disrupted by the ridge of his fingers, mottled red and blue as they lose circulation. There's something bared here as much as there's something hidden, and his body is made more visceral by Lit's technical ability. Another painting of a woman languishing in an ochre satin number displays Lit's talent for conveying texture—every wrinkle is just so. The woman's torso is twisted away from the viewer and she looks over her shoulder.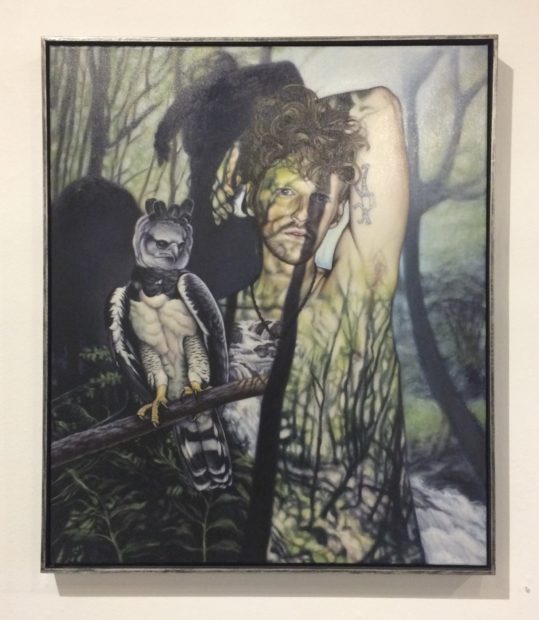 Sadly, the rest of the show loses this traction and feels airbrushed—hair blowing in the wind, a bee resting on a bra strap; images that seem more akin to models posing for an advertisement than for a portrait. Lit's subjects are youthful, and full of fantasy both in terms of their depicted bald desire and their occasionally campy (and skimpy) outfits. But the fantasy is too literal. At times the paintings seem like illustrations for fan fiction about the latest sci-fi TV series. A woman all in white purses her lips from beneath a translucent hood, while her hand coyly lifts the fabric of her dress. It is a practiced look, blatantly posed, and more the image of what she thinks others think is sexy than a feeling of genuine sexiness. Another painting shows a tattooed young man with tousled hair, his elbow bent over his head, and a projection of woods and a stream on his torso. A bird of some sort (a hawk? a falcon?) is in the foreground looking foreboding while the man looks wistful and dejected. The tone is one of an affectation rather than earnestness.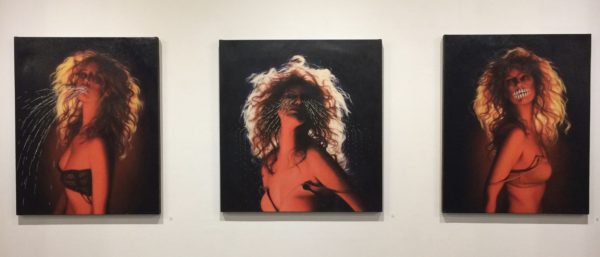 There is something jejune in this lack of reality presented in the style of realism. Each subject looks like they have been told to imitate a feeling—to conjure its appearance—rather than allow it to surface naturally. In a handful of paintings, Lit plays with stitching into the canvas (admittedly, this is what initially drew me to see Lit's show, after having been quite seduced by a show of Maurizio Anzeri's embroidery on photographs a few years ago). A series of three portraits of the same woman, whose bras straps fall off her shoulders while her blown-out hair is backlit, are stitched with different patterns of white thread. One creates garish horror-film-like teeth on her face, another is a spray of white coming from her mouth that seems to suggest semen, and another is a fountain of stitching sprung from her eyes. The pieces that employ thread don't bring the paintings further into abstraction. Instead they further illustrate what is already there, and this renders the work slack.
In a recent article by Zadie Smith in The New Yorker, she addressed the work of Lynette Yiadom-Boakye, a British-Ghanaian figurative painter who has piqued the pens of critics to question how representational painting is relevant post-abstraction. Smith examines the "rise and fall of content versus form," which is relevant when looking at Lit's paintings. It isn't that Lit's work isn't conceptual enough, or that it lacks in skill. Lucian Freud embraced realism without over-intellectualizing his work. Beauty is still a worthwhile pursuit in art. But there is something twee in these cloying pictures of desire. They lack self-awareness.
Lit's work is most striking when she shows restraint and leaves space for us to imagine the internal worlds of her subjects. Take an image tucked in the back corner of the gallery of a woman with peculiarly narrow tan lines on her breasts. Her hands are behind her head and she seems to be lifting her head up, as if say hello to someone who has just walked in the door. There's something odd about this image—it isn't purely about seduction in spite of her nudity. It's with this painting that I see what the others lack: Lit's subjects too often don't feel entirely human, and that is to say they aren't vulnerable or believable.
Through July at Women & Their Work, Austin.