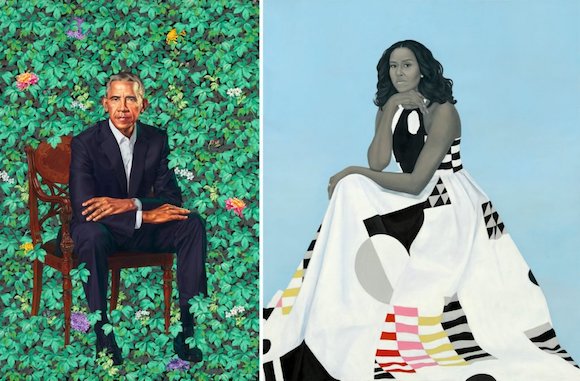 The official portraits of Barack and Michelle Obama were unveiled yesterday at the National Portrait Gallery, marking America's first African-American first couple which were depicted by the first African-American artists to be given the commission, reports artnet News.
The artists, Kehinde Wiley and Amy Sherald, aren't known for photorealistic portraits within everyday settings. Sherald isn't usually bound to the concept of strict resemblance and even Wiley's is a bit "almost," but both artists infuse their works with much meaning.
About Sherald's portrait, Politico remarks, "The dress is as much a window into the former first lady's identity as her face, and possibly a more accurate one." Artnews explains the pretty greenery surrounding former President Barack Obama: "The plants carry a certain symbolism: chrysanthemums are the official flower of Chicago, where Obama went to law school and became a politician; jasmine refers to Hawaii, where he spent much of his childhood; and African blue lilies allude to his father, who was Kenyan."
For more, Brian Boucher over at artnet News scrolled through the Twitterverse for some pretty great responses to the portraits.