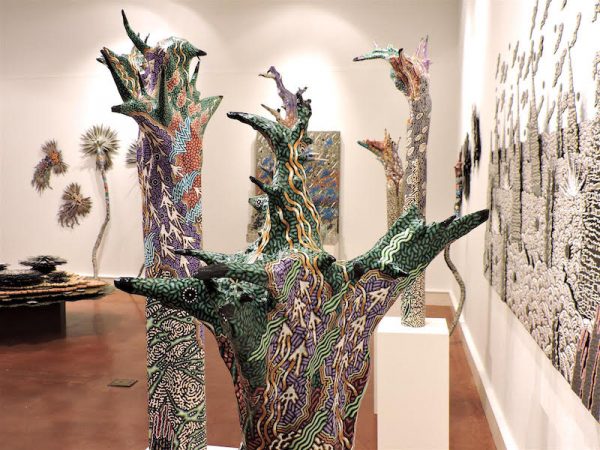 Terry Hays has unveiled a new sculptural installation in the South Campus Carillon Gallery, Tarrant County College in Fort Worth. This exhibition is the initial installment and first public showing of what will be an even larger installation that is slated for exhibition at another venue a couple of hours from Fort Worth.
After completing his MFA at Texas Christian University, Hays' first job offer was in Canada, so the Texas native moved north for eight years, teaching and later chairing the painting department at the School of Art at University of Manitoba. He also met his wife, artist Kathy Robinson-Hays, in Canada. The couple decided to relocate to Texas, where Hays' background in scenic art and set painting began. He worked for several PBS programs as lead scenic artist, created sets for theatrical and stage productions, as well as teaching scenic art at Southern Methodist University. In 2002, Hays cut back on his theatrical work so he could concentrate more on his art production. Hays has received several awards for his artwork, the most recent award in 2017 was for his Art in the Metroplex entry exhibited at the Fort Worth Community Arts Center. He's represented by Ro2 Art in Dallas.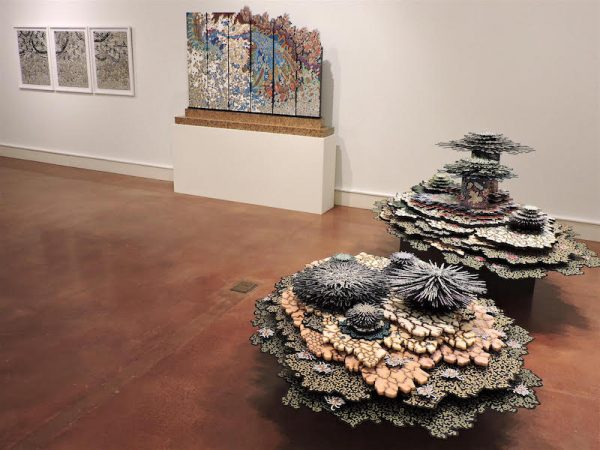 In developing his complex visual vocabulary, Hays states that he immersed himself in the study of art from Australia, Indonesia, New Guinea, China and Japan. In addition to those influences, Hays draws much of his inspiration and some of the physical material for his pieces from his own backyard, and his life experiences and memories. Hays' body of work comprises both painting and sculpture in two and three dimensions; he paints on wood, plywood, MDF and sheet PVC or Sintra, using about 80% recycled materials sourced from theatrical companies in Dallas. Hays' years of theatrical artistry are evident in his design of layered background settings for his installations, designed like collapsed layers of theatrical coulisses, or flats. Up to eight layers, one pressed in front of another, are used in some of the backgrounds. He recalls that he began creating the layered/stacked pieces around 2008-9, which were influenced by "…all those years of painting sets with backdrops and cut profiles that are placed in front of, next to and on top of each other on stage. All to create the magical spaces that exist in theater. Another major influence is the old pop-up postcards that I love, and the beautiful scenic set models the set designers used to give us when we started to paint the sets."
Deployed in front of these elaborate backdrops are sculptural pieces on pedestals — the grouped vertical sculptures are created from tree trunks, erected so that the remains of tree roots project upward like splayed fingers. Hays dug these trees and their root balls from his own property. After being cleaned and sanded, the trunks are completely covered with black gesso, then with layers of vibrantly colored images, signs and symbols that often relate to the disaster or another event that precipitated the idea for the piece. The paint is applied in strongly contrasting colors, heightening the sense of otherwordliness. "I have tried really hard to make my paint not look like paint!" Hays writes. "I just did not want to get involved with some kind of arty painterly process — I really try hard to keep the appearance of my hands out of the painting process. I really like it that way. The paint almost becomes some other material. Much more magical I hope."
Hays explains the meaning of the one of the two themes of the installation: "Irreversible Change is all about the recent unsettling frequency of natural disasters (forest fires in California, floods in Houston, the tsunami in Japan, hurricane Katrina) the devastating results and the long road to recovery." Sendai is one of the pieces that represents the Irreversible Change of the 2011 earthquake and tsunami that engulfed this Japanese city. The background and foreground sculptural trees are largely monochromatic, with swirling designs symbolizing tongues of water engulfing structures. In the foreground are drowned, broken trees with blackened tops and fish images at their base. Sendai reflects Hays' use of black-and-white photocopies in his preliminary design. "Many pieces have been planned out full-scale with black-and-white photocopies," Hays says.
The other theme present in the show are scenes from Hays' selective memory. "My brain has decided to save only a few selected memories from my past and keeps bringing them back, the same ones over and over! …the piece titled Pembina Highway (about a 3-day blizzard I was in when I was teaching in Canada) was the first piece that combined both ideas of Irreversible change and Selective memory." In a nod to his world-art interests, the blue cloud forms in Pembina Highway are a motif that appears to be adapted from imperial Chinese robes.
GMOs are flat wall pieces with various manifestations of bizarre but beautiful creatures — 'GMO' stands for the genetically-modified, lab-created organisms imagined by Hays. Some of these creatures have frilly side gills, and tentacles streaming from the central head or body. While doomsday scenarios have been associated with GMO panic, Hays tends to view them more optimistically and poetically, recognizing the advances they may bring to society.  
Attached to the walls with agave-like plant tops, the Selective Memory: Chisos Mountains pieces have walking-stick appendages that contain their own unique imagery drawn from tattoo designs of skulls, hearts and dice. "One of the last fond memories I have of my parents was a vacation to Big Bend. One day Dad said 'I want to go to Big Bend,' so Mom, Dad, Kathy and I headed west and spent a week exploring everything we could about Big Bend, really playing tourist. Dad's health was failing and he had difficulty keeping up at times but he was a real trooper. We had a wonderful trip, and I think of this time I spent with my parents almost everyday. This is probably the single most influential event when it comes to the work in Selective Memory."
Another Selective Memory appears in the centrally placed freestanding groupings called Islands, in which stacked elements are arranged horizontally. When looking down on these pieces, one is drawn into a different world, as if looking into a microscope at a teeming array of somewhat-familiar-yet-alien life, at a macro level. Hays says that the Islands are in part influenced by his own garden, and its constant changes in regrowth and renewal each year. The Selective Memory part of these islands fuels his drive "to try and recreate that memory one might have when they think back on that family summer vacation they took as a child. The moment when they stepped into that cool dark cave and followed this path through a magical underground world with marvelous things hanging above your head and surrounding your feet below, anticipating what might come next while walking along this cool, damp path. I am really trying to recreate this memory, that moment we just surrender and marvel at the things around us."
One of the most dramatic scenes in the show is titled Swimming to Salvation, Escape from the Water Demons. The piece imitates the form of a six-panel Japanese folding screen that has caught on fire, with painted flames chewing away the upper right corner. Below the licking flames, a flooding river contains tiny fleeing figures swimming upward, pursued by fiery red-faced demons. Hays comments on those who have fled disasters, "Irreversible Change is also a reminder that some never recover, lives are truly changed forever." The title of the piece is hopeful, but the imagery is apocalyptic.
In the next year and a half, Hays plans to increase the size of this installation by creating more large wall pieces, trees, and more islands. A museum exhibition of the complete, expanded installation is in the planning stages for 2019, but the specific exhibition dates have not been set yet. This stunning exposition of brilliant color and imaginative forms is worth a trip to TCC's South Campus.
(Artist quotes are emailed responses to author's questions.)
Extended through Saturday, Feb. 25. Gallery hours: 10 am – 4 pm, South Campus Carillon Gallery, Tarrant County College, Joe D. Rushing Performing Arts Center, Fort Worth, TX