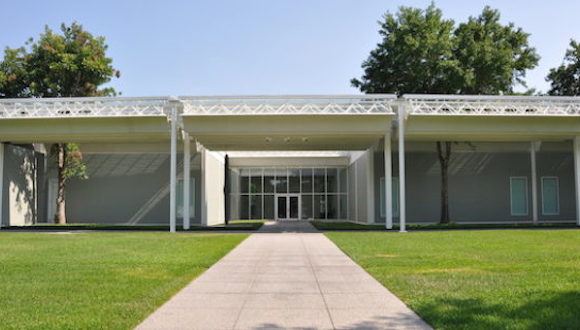 This weekend is your last chance to see the Menil Collection's main building before it closes for eight months. During the closure, which begins on Monday, February 26th, the institution plans to sand, stain, and seal its hallmark pine floors, put in new drywall, modify exterior and interior lighting, and update its fire detection sensors. During this process, the Menil will have to dismantle some of its walls in order to transport collection objects away from areas of the museum that are being worked on.
While the Menil's main building will be closed, the Cy Twombly Gallery, the Dan Flavin installation at Richmond Hall, and the Byzantine Fresco Chapel will remain open as per usual. As of now, the Menil has not announced an opening date for the Menil Drawing Institute. (It was originally set to open on October 7th of lat year, but was postponed indefinitely for undisclosed reasons.)
According to a Houston Chronicle article about the closure, Menil director Rebecca Rabinow said that "funds for the repairs and upgrades to the main building were included in the $115 million capital campaign and master plan that were underway when she arrived" at the institution in 2016.
Rabinow plans to reopen the museum in the fall of 2018 with a display of works from the collection, some of which have never been shown before.
The Menil will be open today, February 24th and tomorrow, February 25th, from 11AM-7PM. Mona Hatoum's show will be on view through the weekend — read our review of that exhibition here.