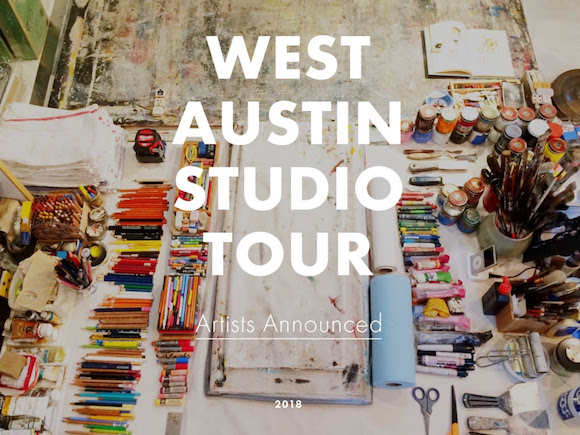 Big Medium, the Austin-based non-profit that organizes the Texas Biennial, Tito's Prize and Austin's big studio tour weekends (one for the city's East side and one for its West side) has announced the list of participants in the upcoming West Austin Studio Tour, which takes place over two weekends in May.
The annual event, also known as WEST, continues to grow. This year, the tour includes around 400 "artist studios, exhibitions, special projects, and events." This should keep art lovers happy over both of the weekends of May 12-13 and May 19-20. This is a free, self-guided event, and the list is BIG (and in alphabetical order by first name): find it here. With a list this far-ranging, it's difficult to objectively call out the highlights, though there are some intriguing exhibition titles, among them: refibrillator collaboration; FutureTBD; Antic Invite II; and The Upshaws of County Line: An American Family. There's also an event called the Art Star Olympics.
The boundaries for WEST are (per Big Medium):
West of I-35
East of Mopac/Loop 1
South of HWY 183
North of William Cannon
For more on WEST, please go here.